I recently had a chance to visit a GTS Fusion 17U workout to evaluate some of their players.
Coach Shawn Costigan has an impressive group that competes on the Girls Under Armour Association and recently won the East Coast National Championship by going 6-0 at Spooky Nook in Pennsylvania.
Here is a quick look at the players on their roster. College coaches of all levels should pay attention in July.
Elizabeth Creed,  2023,  5'10″ Wing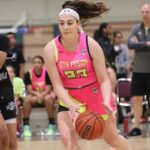 Versatile wing with college range on her three point shot. Very active and physical defender, strong on ball and solid team defender. Quick hands and good reflexes allow her to come up with steals and deflections. Dangerous in transition where her speed really stands out.
Lyndsey Costigan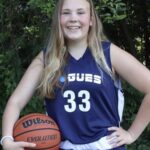 Lyndsey Costigan 5'11" | SF Flint Hill | 2023 State VA ,  2023, 6'1″ Center-Forward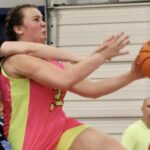 Photo: Melanie Thurston www.gtsfusion.com
Six footer with range out to the three point line. She has a quick release and does not need a lot of room to launch. Excellent passer that can help facilitate offense. She has a soft touch around the basket and can put it on the floor. Finishes with both hands, rebounds and runs the floor. Solid post defender and she can move her feet in space well enough to thwart penetration. She will contribute at the next level right away.
Nia Henley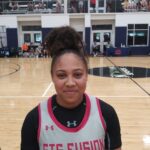 Nia Henley 5'6" | PG River Bend HS | 2023 State VA , 5'6″, Combo Guard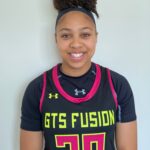 Explosive guard that gets where she wants to go. She can run the point or play off ball and just get buckets if necessary. She is solidly built and strong so she can finish through contact. Legit three level scorer that can step into transition threes, hit pull up mid range shots or finish in the paint. She is an accurate passer with a strong IQ. Very fun player to watch. D1 offers are starting to pile up and she should add more after July.
Catilin Crump, 2023, 5'10″ Wing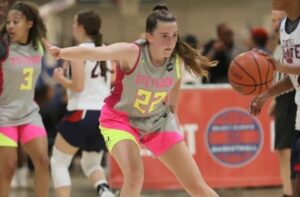 Excellent athlete with a high motor. Great size and versatility as she can play two through four. Strong on ball defender and she is usually assigned to the top offensive player on the opposing team. The form on her shot looks good and she has a nice mid range pull up.
Ryleigh Thurston, 2023, 5'5″,  Point Guard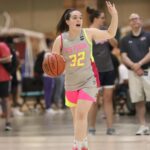 Photo: Melanie Thurston, www.gtsfusion.com
Impressive point guard with good vision and court awareness. She delivers accurate passes and uses screens well to get open. She is a good shooter with range out to the three point line and also attacks the rim aggressively and finishes with both hands. She's fearless on both ends of the court.
Kennedi Rooks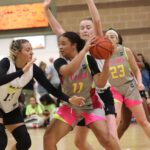 Kennedi Rooks 5'9" | CG Millbrook | 2023 VA ,  2023,  5'11″ Wing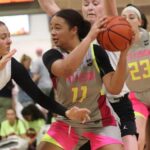 I love Kennedi's motor and physical style. She can guard positions two through four because she has strength and speed and likes to mix it up in the paint. She has good footwork and some nice moves in the paint. She is the type of versatile player every team needs. Looking forward to seeing her again in July.
Peyton Jones, 2023,  5'8″ Guard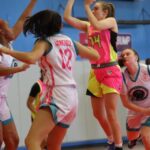 Crafty scoring guard with some nice moves.She moves well without the ball and can hit catch and shoot threes. Strong ball handler that can create space for mid range shots or get all the way to the rim where she can finish. Good footwork and lateral movement on defense.  She's a gamer. She should have a strong July and carry it over to her senior season at Meridian High School.
Sophia Miller, 2023, Battlefield High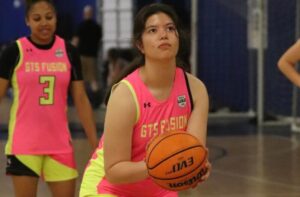 Sophia unfortunately tore her ACL and is still recovering from her injury. She started at the five last season for the squad and actuall runs the point for her high school team. We will update her evaluation once she is back on the court.
Maryan Eniafe, 2023, 6'2″, Forward-Center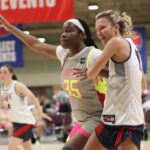 One of the top bigs from the 2023 class, Maryan is a legit 6'2″ with excellent footwork and post moves. She really runs the floor and has added a respectable three point shot to her arsenal. She finishes with both hands and crashes the boards. She has a strong motor and has improved every single season. She should pick up some big time offers this summer to go along with what she already has.