Yesterday we brought you the second installment of our Class of 2026 Watch List, a collection of 20 incoming freshmen whose names we think you need to know. Today our reveal continues with five more athletes listed in alphabetical order. Check out part 1 and part 2 to see who else made the Prep Girls Hoops 2026 Watch List.
Morgan Korf – guard, Pelican Rapids (Inspired Athletics)
The 5'8 floor general is among the least-known top prospects in the state. Rather, she was among the least-known. Over the past few weeks the Fargo-based Inspired Athletics club has made a big splash in Minnesota AAU basketball, turning heads with some strong team performances and showcasing a collection of quality individual talent. Korf may be the best of the bunch. She is a crafty ball-handler who can create in a variety of ways. As a coach's kid, she appears to have developed a strong understanding of the game. Korf makes good decisions, sets the pace for her team, and moves the ball effectively. She can also score. A lot. We look forward to watching Korf's game develop and as we do we will be sure to spread the word on just how much Morgan is capable of.
Brynn Leibfried – forward, Orono (Metro Stars 2026)
The more we watch Leibfried play the more we like what the 5'11 forward has to offer. Brynn just looks like a basketball player with the type of height, length and frame that give her a head start toward success in college. Then there's the motor. Brynn plays hard on a regular basis, and she has a physical presence on the floor that makes life difficult for opponents, particularly down low. Even when she is out-sized in the paint, Brynn often comes out on top of a physical battle because of her strength and tenacity. And she makes a boatload of hustle plays that create opportunities for her teammates. Leibfried is a quality rebounder, she can shoot the basketball, and her handles are pretty good. It's going to be fun going forward to watch Brynn and Mya Moore on the floor together at Orono, a combination that's overflowing with potential for success.
Brooklyn Lewis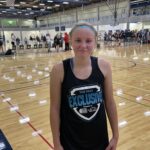 Brooklyn Lewis 5'7" | CG New Ulm | 2026 MN – guard, New Ulm (Minnesota Rise)
The 5'7 combo guard first caught our attention nearly two years ago when she played in the inaugural Prep Girls Hoops Fall Exclusive. We hadn't seen much of the 2026s at that point but Brooklyn grabbed hold of our interest almost immediately with her fast feet, excellent handles, and top-notch mobility. We loved what we saw back then and we love what Lewis can do now. This is a crafty player! Yes she's athletic, but Lewis can also out-smart, out-handle and out-shoot most opponents. That's a deadly trifecta, isn't it? She can also defend like it's nobody's business, works very hard and plays a physical game. We have had a ton of fun watching the great Joey Batt of New Ulm over the years, both in high school and now at Minnesota State-Mankato, but don't be surprised Brooklyn's career reaches similar heights down the road.
Ava Meierotto – guard, Duluth Marshall (Starks Elite)
The 5'5 freshman-to-be has been sidelined by injury in recent weeks so even though her Starks Elite squad has had a ton of success on the AAU stage Ava could only sit and watch. That hasn't diminished her stature as a high-quality prospect in the Class of 2026 one iota. We've seen what Ava can do over the past two winters at Marshall and we know she can do a lot. Meierotto has built a reputation as a premier shooter from long distance. As a 7th grader she had 9 threes in a varsity game which immediately brought all kinds of attention her way. But she can also handle the basketball, gets around the court with a productive combination of speed and quickness, and she has the capability to get by bigger, stronger, more experienced opponents without much difficulty. Now, with the rapid development of teammates Anna Saari and Chloe Carlson, and the impending arrival of 2028 Chloe Johnson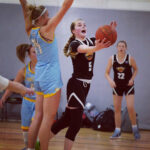 Chloe Johnson 5'9" | PG Duluth Marshall | 2028 MN at Marshall, we expected Meierotto's game to blossom.
Brylee Miller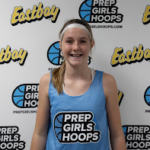 Brylee Miller 5'9" | SG Fairmont | 2026 MN – guard, Fairmont (Minnesota Rise)
Watching the 5'9 Miller guard the perimeter is a thing of beauty. She's really long and really quick and has the instincts needed to read what the ball handler is about to do before she does it. Nearly always, Miller calculates how to get a piece of the ball before it reaches the intended target. That's a real weapon, and one that should translate well to the next level. Brylee knows her way around the other end of the floor, as well. Her athleticism and ability to elevate enable Miller to go up and over bigger players. She finishes is a variety of ways, even when being banged upon, even if her path to the basket is heavily trafficked. With a quick first step, powerful strides and pretty soft hands, it's not hard to imagine how Miller puts up points on a regular basis. With all of those assets and a motor to match, we believe Brylee is destined for big things.