As we enter the July viewing period there are plenty of incoming freshmen who have already distinguished themselves. Some are established varsity standouts – Maddyn Greenway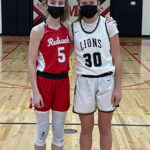 Maddyn Greenway 5'8" | PG Providence Academy | 2026 MN and Tori Oehrlein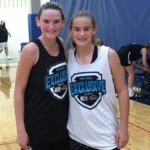 Tori Oehrlein 5'10" | CG Crosby-Ironton | 2026 MN are at the top of the class – while others won't make an impact for their high school for some time to come. All of the players selected for the Prep Girls Hoops 2026 Watch List have already made their mark in AAU. Now, in our final installment on some of the state's premier 9th graders-to-be, we bring you the final five names you can add to your memory bank.
Vienna Murray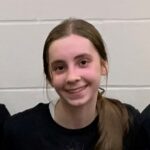 Vienna Murray 5'10" | SG Tartan | 2026 MN – guard, Tartan (North Tartan Nike)
Vienna arrived in the Twin Cities form Duluth a couple of years ago as an unknown commodity. She made the top North Tartan roster and has not looked back since. After making her varsity debut at Tartan High School in Oakdale as a 7th grader, Murray followed that up by earning Most Valuable Player honors in the younger age group at the Prep Girls Hoops Fall Exclusive. Last winter she carried the Titans night after night despite being double-teamed game after game. At 5'10 Vienna is very long and very athletic with impressive elevation, a quality skillset and a mid-range jump shot that is a work of art. Vienna can score off the bounce and make long bombs, too. She rebounds with energy, defends with passion and intelligence, and goes about her business with a steely demeanor. Vienna has plenty of areas she can improve upon, of course, but her long-term prospects are truly elite.
Callie Oakland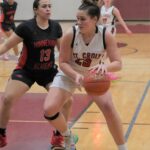 Callie Oakland 5'11" | SF St. Croix Lutheran | 2026 MN – forward, St. Croix Lutheran (Minnesota Fury Blue)
Callie (top photo) is an established varsity presence at St. Croix Lutheran having made a big impression right out of the gate in December, using her size, strength and smarts to make it clear that she was more than ready to face the Crusaders' slate of competitors. At about 6 feet with a big frame, Oakland is a presence in the paint, a force at both ends of the floor who knows how to use her physical advantages to overpower smaller players and hang with athletes her own size even if they are three or four years older. Oakland also possesses a quality basketball IQ – her dad is a varsity assistant at SCL – and a set of tools she is working hard to polish. We especially love how well Callie passes out of the post, which is somewhat of a lost art these days. Although she is by no means a sprinter, Callie makes her way around the floor at pace and has definitely improved her quickness in recent months. If she grows a little more there's no telling now high Oakland can go.
Abbie PIetila – point guard, Delano (Minnesota Fury Blue)
Abbie just exudes confidence. That's a completely underrated asset in our view, and one that can make or break talented young players as they rise through the ranks to college basketball. It's that 'it factor' that enables players to shake off their misses and come up with big plays when the game is on the line. That's what we sense from Pietila, a 5'7 point guard with light feet, excellent court vision, a beautiful sense of timing and pacing, and a natural feel for the game. Abbie just has the kind of court presence that enables her to execute under pressure. Pietila was already running the show at Delano as an 8th grader, directing the Tigers' offense with the poise of a veteran. Abbie's three-point shooting has improved and she is a passionate defender. All of that makes Pietila a quality prospect in the Class of 2026.
Audrey Shindelar – guard, Stewartville (Southern Minnesota Fury)
Audrey and Abbie have a ton in common. Like Pietila, Shindelar just has a great feel for the game and is very skillful. The difference is Audrey doesn't have quite as much to work with on her Southern Minnesota Fury team, meaning she has to go it alone a lot more often on offense to score the basketball. That necessity has enabled her to show off her tremendous ball-handling abilities, craftiness with the  basketball, and the ability to change speeds and/or direction in the blink of an eye. Shindelar is positively overflowing with skill. At about 5'7 and growing, size will not be a problem. She can get to the basket through speed, smarts and skill, and she isn't afraid to take contact. As a result Audrey is a frequent visitor to the free throw line. Stewartville has produced a ton of great guards over the past few years but, based on what we've seen so far, Shindelar could turn out to be the best of the bunch.
Dalia Thornton Fay – guard, Roseville (Minnesota Stars Nilsen)
We didn't know a whole lot about Dalia entering the AAU season, other than the fact that one of our East Metro insiders had told us more than once that the guard was going to be special. The first time we saw her with Matt Nilsen's latest Minnesota Stars outfit we were intrigued. The second time she really grabbed our attention. In numerous subsequent viewings it has become obvious that the multi-dimensional athlete is indeed going to be special. She is very athletic, with quick feet, excellent speed in the open court, and plenty of bounce. Dalia, who says she is close to 5'11, is a quality ball-handler with a really quick first step and the ability to change speeds quickly, which tends to flummox defenders. That's a deadly combination that makes Thornton-Fay a force one-on-one and earns her frequent visits to the free throw line. Put it all together and it's obvious why the incoming 9th grader will be a strong prospect in the Class of 2026.