Addie Adkins Addie Adkins 5'11" | PF Wayne | 2025 State WV needed an attitude adjustment.
Immediately.
Following a return from a concussion, her old way of thinking on the basketball court just wouldn't do anymore. "After we lost to Nitro in the regional co-final, I realized I couldn't put all this pressure on myself to go out there and play," she said.
So, in light of this revelation, she relieved herself of the anxiety by adopting a new attitude of just playing her game and watching the improvements come where they may.
And sure enough, the Wayne and West Virginia Thunder player has reaped the benefits. She's climbed one step closer to becoming a complete basketball player.
Her volleyball game should take notes, it may get left in the dust sometime soon.
Rebounds and 3-pointers? Those skills are just a small part of her game, now, rather than the defining attributes. Joining them are a great many other facets having drawn attention to her, especially from her Thunder coach Ryan Smith.
"She's getting in there and battling," Smith said. "She's really focusing and playing super hard. I've been impressed with her ability to play inside the post as well as outside.
According to Smith, it's allowed him to play different lineups where she's flourished in different roles. In one game, she may guard a 2 or 4 while in another game she may guard the five while helping Smith but a small-ball lineup on the offensive end. And she's hit more 3s and driven into the lane more, thus upping her confidence.
"It (her belief in herself) has really soared," Smith said.
"People are really surprised, I can do so many different things," Adkins said. And it's made her stand out, even more.
Thanks to this new shot of confidence, she actually developed a new leadership style and take-charge attitude. In several games against some of the top teams AAU can offer, she led her team in scoring and rebounding.
That's right. On a team featuring six of the top 10 freshmen in the state, Adkins has taken command.
To top it all off, she's achieved so much in such a little time that she's among the short list of most improved players in the state. Spring Valley's Allie Daniels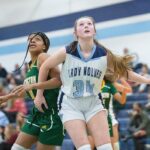 Allie Daniels 6'1" | PF Spring Valley | 2025 State WV and her may be tied for the top spot in terms of improvement.
Yes, that much has been added to her game in such a short time.
Speaking of, sister Brooke may want to watch out, she may not have bragging rights of the best player in the family for much longer. "The gap is closing," Smith said. "Right now, it is just up in the air on which one is going to work harder on their shooting."
Should Addie return to the court with an improved jump shot, it could catapult her to another level entirely, according to Smith.
"If Addie comes back in July being able to knock down more shots than that shows me that she's really set. Then that shows me she's on a different level right now. That was my challenge to her and her sister," Smith said. "If she can knock down shots in July that lets me know she worked on it and she took the initiative to work on her shot then I know she put the work in and her ceiling just went another level up."