There were only a handful of Minnesota clubs at the PGH Circuit Legacy Region Finals this past weekend at Wayzata, which is why we have focused heavily in our coverage this week of players from those teams. The PGH Circuit has been a boon for the athletes of Air Minnesota, The City, West Central United and Minnesota Diamond Elite. The Legacy Region events have been their opportunity to shine more than ever before. Next year more local clubs need to jump on this wagon train where the spotlight shines bright and the athletes can make a name for themselves. I'll close my coverage of the tournament with five more Minnesota prospects who raised their stock at Wayzata, four from MDE and one from WCU.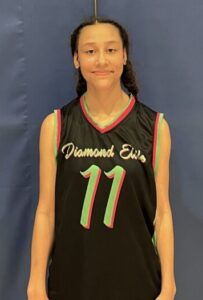 Olivia Wren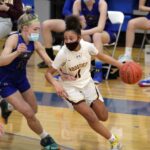 Olivia Wren 5'8" | SG Roosevelt | 2024 State MN – guard, Minnesota Diamond Elite 2024
Minneapolis Roosevelt has some really strong young talent and most of it has gravitated toward Diamond Elite for AAU competition. The MDE 2024 team coached by Omar McMillan includes 6-footer Raina Hartman, who averaged about 8 points per game for the Teddies. Crafty little guard Jaida Walker can light it up from downtown. She averaged nearly 13 ppg. And then there is Olivia, who has the highest ceiling in the group. She showed that clearly this weekend. The 5'8 guard is super athletic with top-end speed, quickness and really good body control. She's explosive, with a lightning-quick first stride that enables her to dust defenders with regularity to score at the basket and draw fouls. Her rather lengthy arms are deadly on defense as she seems to get a hand on everything and wraps up ball handlers very effectively. She's also scrappy and goes after loose balls without regard to life or limb. We would like to see Wren shoot the ball a little more but that will come. She is a talented performer with a high ceiling. Olivia is also really fun to watch.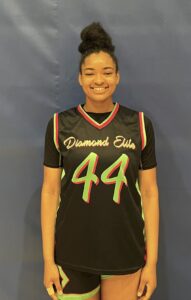 Zhane Singer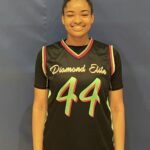 Zhane Singer 6'0" | PF Como Park | 2023 MN – forward, Minnesota Diamond Elite Walker 2023
We wrote a little about Zhane in our article about the 17U All-Tournament Team. A year ago it would have been difficult to imagine the 6-footer earning this type of honor on the PGH Circuit. It's not that the potential wasn't there; it's more that things had not quite come together for her just yet. At Como Park she was playing behind big Jada James (NIACC) so she wasn't getting quite as much run as she would have liked. Fast forward to today and you can see how far the beefy post has come since her days at Tartan High School. At the Legacy Region Finals we saw much-improved footwork and body control and the ability to devour offensive rebounds and score on put-backs. We watched her get up and down the floor at pace and play with a strong effort-level. We witnessed just how far her skill development has come. But there was one play in particular that speaks to what type of person Zhane is. After absolutely flattening her defender on the way to the basket – the poor girl was laid out like she got hit by a bus – Singer was the first one there to help her up. Love it!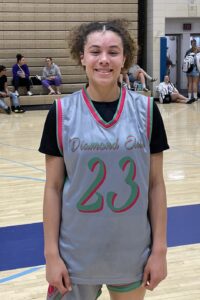 Shyla Moore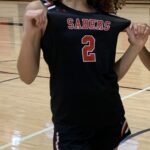 Shyla Moore 5'7" | SG Shakopee | 2023 State MN – guard, Minnesota Diamond Elite Walker 2023
Practically every coach I know preaches the gospel of defense, and when players make it to the collegiate level the first ones to find time on the floor are those who can defend without fouling and very rarely turn the ball over. Yet in AAU these kids seldom get their due. Shyla is one of those players. Well, I'm here to tell you that defense does matter and there are few players more committed to that side of the ball than Moore. Much of what she does goes unnoticed by casual observers. She is intense, is all business on the court, and constantly appears focused on the task at hand. Moore has always had nice quickness and athleticism, too. Now that she's grown, filled out, and gotten stronger she is even more effective. You shouldn't overlook her offensive capabilities either. She can shoot the three, gets into the paint and the Shakopee guard isn't afraid to take on the challenge of making the big play in the big moment. It's time she got her due.
Ella Pritchard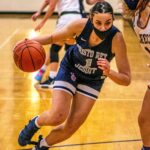 Ella Pritchard 6'0" | SF Holy Angels | 2023 State MN – guard/forward, Minnesota Diamond Elite 2023 Walker
We've been excited about Ella's potential since first watching her at Cristo Rey High School in Minneapolis over three years ago. And why not. Pushing 6 feet, with long arms, long strides and superior athleticism, the 2023 guard/wing/small forward has the tools to make it to a high level of college basketball. It's been an interesting 12 months for Ella who transferred to Holy Angels last fall. At CR she had to do everything, was pretty much on her own, and put up prodigious numbers as a result. At AHA she had to fit into a talent-laden, team-first lineup and it took some time to adjust. By the second half of the season, however, she was averaging double figures again and showing flashes of brilliance. The next step for Ella is consistency. This is an athlete who is capable of taking over any game she plays in, capable of being a dominant force. Her shooting is improving, she talks a lot on the floor, plays with a positive mindset and can guard multiple positions. That's a nice package. Ella is a Top-40 talent whose time is near.
Megan Thorfinnson – guard, West Central United 2025
I know our colleague Coach Rudy profiled Megan yesterday in her look at 2025 impact players but I'm going to add my two cents worth, as well. Megan's emergence this spring on the PGH Circuit has been fun to watch, and she's not the only Minnewaska Laker who has been making waves. Yesterday we told you about her teammate Sydney Dahl, a 6-foot guard who is spilling over with potential. And then there's freshman Addyson Kath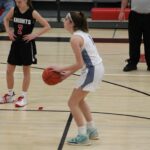 Addyson Kath 5'10" | SG Minnewaska | 2025 State MN , a strong performer for North Tartan. Megan has scored in bunches for WCU. The 5'9 guard made four threes in the third-place game and has NBA range. She's disruptive defensively and knows how to leverage her length and athleticism very well. Megan also has a great crossover move that enables her to get to the basket with style. Megan's older sister Maddie Thorfinnson, a 6-footer from the Class of 2022, was a bit of a late bloomer and she's headed for D2 ball at Southwest Minnesota State. We think Megan has a shot at that level, too.