Prep Girls Hoops Missouri takes a look at the members of Team No. 2 from last weekend's Missouri Basketball Coaches Association Small College Showcase in Columbia.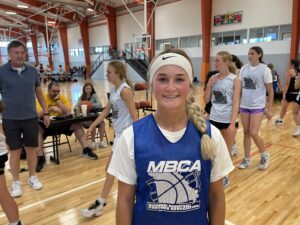 Ashton Bowers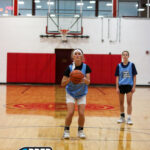 Ashton Bowers 5'5" Salem | 2023 MO (Salem): The 5'5″ 2023 point guard displayed a nice perimeter shot as she hit multiple 3-pointers in each game that I watched her play. She got downhill on the drive very well and she was able to create her own shot with a variety of escape moves off the dribble. She could shoot it off the catch and she had an effective step-back dribble. She also displayed some good passing ability with some impressive no-look dimes.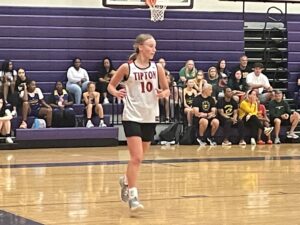 Charlee Bailey Charlee Bailey 5'8" | CG Tipton | 2025 State MO (Tipton): A 5'6″ 2025 guard who had an impressive showing at both ends of the court. She was aggressive in attacking the basket as she scored on several tough takes in the lane and she added some good 3-point shooting to the mix. She was very solid on the defensive end as she moved her feet and gave a strong effort.
Mara Jansen (Van Far): A 5'11″ 2023 forward who is a very solid inside player. I was impressed with how she made her free throws. She plays a game that draws a lot of contact, so making those charity tosses was very important and she converted several of them. She got good position and scored on offensive rebounds and she had a nice flip shot in the paint that worked well for her.
Lillianne Teichman (Warrensburg): A 6'0″ 2024 forward who displayed some very solid moves in the low post. She has good footwork and she had a very effective up and under move. She also has a nice shooting touch from 10 to 12 feet. She also did some good work on the boards.
Emmah Crowe (Fort Osage): A 5'10″ 2024 forward who could do some positive things in the post and on the perimeter. She effectively hit the 15-footer from the baseline and she could also stretch the shot out to beyond the 3-point line. She also had a nice reverse pivot move inside where she would hit the turnaround jumper.
Elena Hoffman (Hickman): A 5'8″ 2024 guard who was very aggressive when attacking the basket and getting herself to the free throw line. She was most effective going right as she either got downhill or she stopped to pop the mid-range jumper from the elbow area. She was also a good passer who could feed the ball into the low post very well.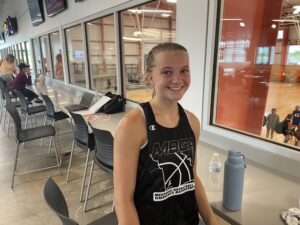 Marci Lammers (Pilot Grove): A 5'6″ 2023 point guard who made good use of her speed and quickness. She was very effective on dribble penetration and she also made good use of ball fakes to get by defenders. She also did a good job of hitting open 3-pointers.