We've recently taken a look at a number of standouts across New Jersey who have committed or received offers through the middle of June or so. This article will continue that search around the Garden State and plenty more has happened recently, with players giving their verbal commitments as well as announcing offers from schools. The excitement continues and we're here to talk about it all. Here's the latest update on the recruiting front.
Gabriella Ross Gabriella Ross 5'7" | SF Donovan Catholic | 2023 State NJ – 5-7 PG/SG, Donovan Catholic (2023)
Ross recently posted on Twitter that she took a visit to Monmouth to check out the school and the basketball program. She's a must-watch player for the Griffons and really thrusted herself on the recruiting front with a fantastic junior year where she averaged nearly 17 points a game and looked more dominant than ever.
Had a great visit at Monmouth. Thank you so much (@G_Bogg @AnjaleBarrett @SBair_MUHawks @MUHawksWBB ) for taking the time to show me your beautiful campus. pic.twitter.com/AYPQB25ExE

— Gabriella Ross (@gabriellaross23) June 28, 2022
A strong sophomore year gave way to what was a superstar-like junior year, one that had her in All-Conference and Player of the Year talks. Playing for Jersey Gemz this summer, she's going to get plenty of exposure and will most certainly attract plenty more offers.
Kennedy Henry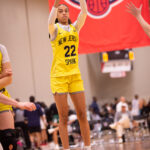 Kennedy Henry CG Blair | 2025 State NJ – 6-0 PG/SG, Blair (2025)
The freshman has already announced via Twitter that she will be taking her talents to Blacksburg, Virginia at the end of her high school career to play for Virginia Tech. She's already garnered a number of Division 1 offers, from Pitt and Princeton to Arizona Tech and Miami. However, she's gone with the Hokies and they'll be getting a player with plenty of raw ability and a hybrid scorer and stellar defender at that.
Blessed 😇 @nikkicole302 @blairbucs @Purposebball1 @NewJerseySparks @CoachBrooksVT @HokiesWBB @L_Hicks04 @CoachRadVT @CoachPorcha pic.twitter.com/VjebsoqLjf

— Kennedy Henry (@KennedyHenryy22) June 29, 2022
You don't see many freshmen who are 6-0 and can shoot the three well, let alone command an offense, run off ball screens and drive to the basket or get key turnovers on defense off steals and deflected passes. Henry has already done that and then some for Blair, who is just churning out college prospects one after another.
Team Sharp put out this graphic as well over the last few days showcasing all of the 2022 prospects who will be continuing their basketball careers in college.
Among those in this graphic include Blair standout and Loyola Maryland commit Ally Lovisolo, Montclair Immaculate standout and St. Peter's commit Tiara Bellamy and Neptune standout and Iona commit, Amaya Evans.
Congrats to Team Sharp alum. Can't wait to watch you the next four years. @NJLadiesHoops @PrepGirlsHoops @PGHNewJersey @emb_nj @HSSportsNJ @HSSportsNJ @NJHoopRecruit @NoBoyzAllowedBB @NYGHoops @brolymedia pic.twitter.com/PG0kkDlLxh

— Coach Sharp (@TeamSharp23) June 28, 2022
Keep an eye out on the recruiting front for the rest of the summer because there are plenty of offers still waiting to be given out to players across New Jersey.