The MAYB Summer Kickoff ran late Friday, June 10, through Sunday, Previous reports from days 1 and 2 focused on notables from that day without duplication. This article will share info on players new to the PGH Kansas that competed in the 11th and 12th grade division.
Olivia Antonovich Olivia Antonovich 5'5" | PG Newton | 2023 State KS , 5'5″, PG, Newton, Central Kansas, 2023 – Antonovich showed quickness and perimeter shooting ability. Slides well off the high screen to receive a pass to hit the three ball.
Sophie Hurley Sophie Hurley 5'8" | SG Maize South | 2024 State KS , SG, Maize South, 2024 – Zone buster shooter. MAYB Summer Kickoff 6.11.22 – playing with HS team – Zone buster perimeter shooter. Limited ball skills but runs well, moves well without the ball, and defends with steady quickness. Can dribble at speed and finish in transition off the steal. Can make the soft off-side wing to opposite side block lob.
Lauren Kice, 5'10", SF, Kapaun Mt. Carmel, KYD, 2025 – Slender build run has good transition speed, is long limbed, and catches well in transition.
Savannah Phillips Savannah Phillips 5'8" | SF Arkansas City | 2025 State KS , SF/PF, Arkansas City, KS Cy-Fair Elite, 2025 – Phillips is a high potential, garbage collecting post player who runs the floor well. She has athleticism to try the wrap around layup and hops to bring down a couple extra boards.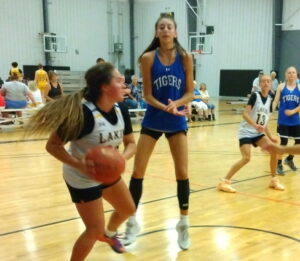 Lydia Reed, 6'2″, C/PF, St. John Hudson, 2025 – Reed is a high potential talent. While she has a slender frame Reed has legitimate height and length. Reed is also fast in transition, boxes and elevates well around the basket, and extremely active in the half court trying to work the screen and roll game. She will finish at speed and with extension with both hands. Reed reminds me a great deal of Riverside 2024 center Taylor Weishaar Taylor Weishaar 6'2" | PF Riverside | 2024 State KS . As she develops her offensive game, gains strength, improves her defensive game against opponent screening games, and has her teammates use her better in the half court Reed can quickly become one of the top Class A players in the state.
Brenna Rucker, 5'9″, SG, Eureka, 2026 – Rucker has a mature game and is a dangerous perimeter shooter. She also showed good toughness. Playing with her Tornadoes high school team Rucker could be found on the wing or working the high post inside due to the team's lack of size. Ball skills with speed in transition enable her to work the break. Seals well in the post and provides a great target with her hands to teammates to pass to. Calling it now. Eureka will be a good team but with Rucker the Tornadoes will be a really good team.
Ali Singhateh, 5'7″, CG, Eureka, 2026 – Singhateh has as nearly a complete a game as her older sister Ashley Singhateh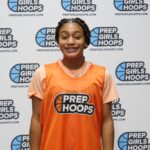 Ashley Singhateh 5'7" | PG Eureka | 2024 State KS . She is fast, athletic, finishes with speed and aggression, and has ball skills and great hops. She is a difficult match-up for very much the same reasons.
Featured image: Eureka 2026 Brenna Rucker. Photo: Robert Kelly.. Photo: Robert Kelly.
Author's note, the article has been updated with these corrections:. Ali Singhateh was mistakenly added as Tia, Brenna Rucker was listed as 5'7″, and the featured image was Ashley Singhateh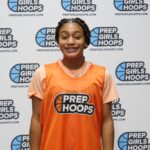 Ashley Singhateh 5'7" | PG Eureka | 2024 State KS .