Northern Guilford hosted a jamboree earlier this month.  Here are some of the rising sophomores from the event that deserve your attention.
Allie Sykes Allie Sykes 5'2" | CG Western Alamance | 2025 State NC | Western Alamance
Sykes has been playing with smooth handles for several years even against tough competition.  She knows how to use crossovers or hesitation moves to get around her opponents, and she can certainly finish at the rim with a nice roll off her fingers.  Double teams definitely don't intimidate her as she gets by them with ease.
Christina Bowers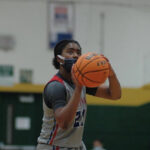 Christina Bowers 5'8" | CG Southern Alamance | 2025 State NC | Southern Alamance
Bowers (featured photo) does what it takes to get by her opponents, and she knows where her teammates will be to make her dish.  Her handles are smooth, and she has speed making it difficult for anyone to slow her down.  She is already a young leader for her team controlling the tempo of the game and running plays.
Kylie Torrence Kylie Torrence 6'1" | SF HPCA | 2025 NC | High Point Christian
Torrence uses her length to block shots and deflect passes when playing defense.  She has a nice jumper, too, where she shows off the ability to elevate over her opponents.  She does well getting inside to grab some rebounds on both ends of the court.