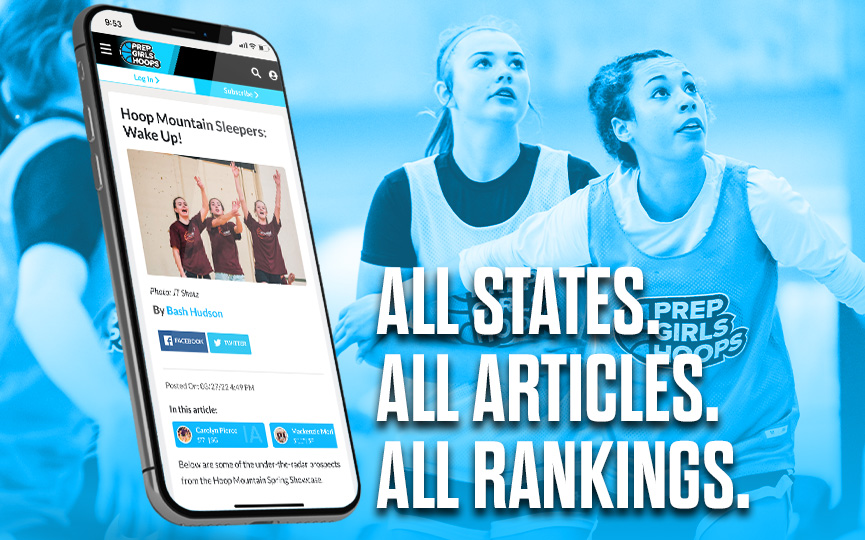 Posted On: 06/22/22 5:48 PM
Prep Girls Hoops, where players become prospects, is excited to announce expanded access to all subscribers. Starting today, all active subscribers will have access to every state, every article, and every ranking on PrepGirlsHoops.com.
The best part: This change is coming with no increase in pricing! Our monthly and annual payment plans remain the same. 
Prep Girls Hoops has grown to a network of 75+ scouts across 40 states and while we're thrilled with our continued progress, we're far from satisfied. Changing to national access will enable us to provide more value to more players and provide our readers with more content at the same cost.
"Prep Girls Hoops will continue to specialize in hyperlocal coverage and rankings with a no-player-is-off-limits approach in each state. Our commitment to unparalleled depth and accuracy allows us to impact more prospects nationwide than any other high school sports media outlet." Editor in Chief, Jared Nelson said.
What changes?
All current Prep Girls Hoops subscribers will now have access to every article and ranking on PrepGirlsHoops.com. Rather than a separate subscription for Prep Girls Hoops Iowa, Prep Girls Hoops Illinois, Prep Girls Hoops Wisconsin, etc, all articles and rankings will be viewable.
If you are a non-college coach who subscribed at the National or Pick 5 level, your renewal subscription will be automatically updated to the lower price.
Approved college coaches with Pick 5 or National subscriptions will enjoy expanded access to our comprehensive contact database and player information hub, via the the Prospect Index.
For complete pricing information, visit https://www.prepgirlshoops.com/product/national-all-access-pass/
What do I need to do?
Nothing! All current subscribers will not have to make any changes to their account. Starting today, you will automatically have access to all content on PrepGirlsHoops.com