Day 2 of the MAYB Summer Kickoff started bright and early Saturday, June 11, in the Wichita area.  37 teams from multiple states made up the 11th/12th grade division.  Pool play began Friday night, June 10, and continued into Saturday.  Bracket play began Saturday afternoon. Play wrapped up Sunday.  While some 2022s are playing my coverage is encompassing 2023 and younger players.  Below are some rough, quick notes on several players I saw Saturday unduplicated from Friday.
Chloe Clevenger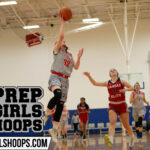 Chloe Clevenger 5'6" | PG McPherson | 2023 State KS , 5'6″, PG, McPherson, 2023 – High motor on display on both ends. Transitions well with strength and handles. Smart defensively. Late against Emporia picked up two steals that turned into layups for her in two trips.  First she left who she was guarding to double the point guard, who had picked the ball up, from behind.  Ripped the ball away and off she went.  Second, jumped the passing lane to pick a pass to the same point guard. Same result.
Oen Deters Oen Deters 5'6" | SG Centralia | 2025 State KS , Centralia, SSA Gameball Ingram, 2025 – Deters unofficially extended her three point range to the first volleyball line in the back court when she hit a all-net bomb game winner with seconds left. Officially, she showed a complete perimeter game and that she is deadly from beyond the arc if left alone.  She also showed herself to be a smart floor leader with quickness off the bounce and a solid defender with good lateral quickness.  Deters also has a solid build that helps her absorb contact.
Hattie Gros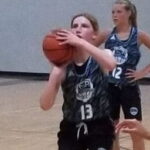 Hattie Gros 5'5" | CG Frankfort | 2024 State KS , 5'5″, CG, Frankfort, SSA Gameball Ingram, 2024 – Gros is a solid guard who uses the screen game well. She has perimeter range but also will use the screen game to free her for the mid-range jumper off a couple dribbles. Like the rest of the team, Gros runs well and defends well.
Amani Lipscomb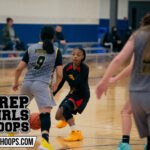 Amani Lipscomb 5'2" | PG Maize South | 2024 State KS , 5'2″, Maize South, 2024 – Lipscomb is frustratingly quick on both ends of the floor.  She has perimeter range but continues to develop consistency in it.  She has clearly been working on her step-back jumper too. Even when her shot is not falling Lipscomb is a terrific creator and a burgeoning floor leader now that she has emerged as the Mavericks' point guard.  She shows her understanding what a point guard is supposed to do off a team member's rebound, pushes pace, plays in control, and can hit runners on the dime with transition passes. She also has strong ball skills.  Defensively, she jumps passing lanes from off the ball well and can make opposing point guards work full court.
Avery Lowe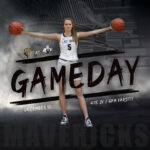 Avery Lowe 6'3" | PF Maize South | 2023 State KS , 6'2″, PF, Maize South, 2023 – Especially effective in and around the lane off the ball fake. With her quick feet and threat of hitting the mid-range and three point shot, all she needs is to get defender leaning a little and she gets to the hoop.
Madison Moors Madison Moors 5'7" | CG McPherson | 2024 State KS , 5'7″, CG/SF, McPherson – Moors produces in so many ways. She can get in the flow and string perimeter shots together. She also can score with length inside off the slash, the entry pass, or in transition.  Moors has good strength, length, and very solid transition speed.
Rebecca Snyder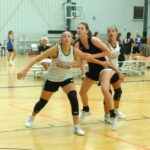 Rebecca Snyder 6'0" | PF Emporia | 2023 State KS , 6'1″, C, Emporia, 2023 – Except for a terrible game 1 the day before Snyder was a strong force inside. With good transition speed and her movement off the ball Snyder made it difficult to defend her the length of the floor. Moves well into space, has good hands, and a quick inside game where she can hit the turnaround jumper or finish with length on either side versus contact. Very strong off the power dribble.
Lillie Veer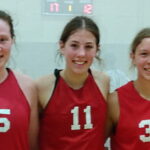 Lillie Veer 5'7" | PG Berean Academy | 2023 State KS , 5'7″, PG, Berean Academy, KS Dream Team, 2023 – Veer showed solid floor leadership and good overall speed and quickness.  Transition speed with the ball and finishing speed and extension is very good with either hand.
Featured image: Emporia center Rebecca Snyder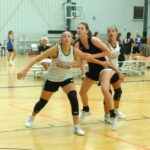 Rebecca Snyder 6'0" | PF Emporia | 2023 State KS draws a McPherson double team on a free throw at the MAYB Summer Kickoff