Taylor Evans- 5'4, G, 2026, Amanda Clearcreek: I love players who are feisty! She's got this quality in her game!  Strong ball handling skills, long lasting motor, and she flat out gets after it all game. Evans reads passes well, able to deflect and pick pockets. Knows how to get to the charity stripe, and pretty, under control spin moves to the basket!
Grace Davis- 5'10, C/F, 2024, Amanda Clearcreek: (Below, giving high five to #10) Really impressed with Davis. She provides leadership, and physicality for her team. Athletic player who plays hard in the paint, fantastic rebounder, knows how to score, and doesn't give up on plays. Whoever is guarding her will have a tough assignment, she's a worker, all game.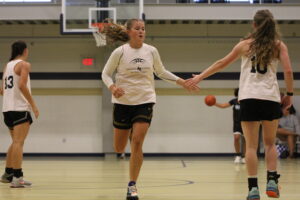 Gianna Lane Gianna Lane 5'8" | CG Tree of Life | 2025 State OH – 5'8, PG, 2025, Hilliard Darby: Lane is a big problem for opponents, and can do it all! She runs the offense so well, plays with composure, and enjoys an uptempo game. Gianna can slice through multiple defenders with ease. She attacks well in transition game, and makes plays coast to coast! She can shoot the rock, very well! (Featured Photo, shooting) 
Ashley Powers- SG, 2023, Hilliard Darby:  (Below, on defense) Powers shows "power" in her game! I like her size, and her mid range jump shot, particularly around the free-throw line; she owns that shot! She goes after rebounds, and cleans up after missed shots with easy buckets- her opponents must know where she is at all times, and try to contain her from 2nd chance opportunities. Otherwise, it's two points.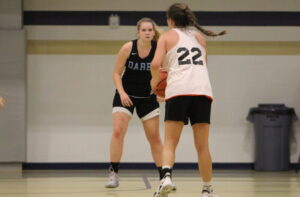 Faith Yancey- 5'5, G, 2024, Circleville: Faith's quickness- wow! Lets just say she's got one speed, FAST!  Her light feet attribute to her playing strong on ball defense, fast break opportunities, as well as quick moves to the basket while running the team's offense. No problem picking passes! Pretty outside shot!