Gabby McConnell Gabby McConnell 5'10" | SG Circleville | 2024 OH – 5'11, SG/F, 2024, Circleville: McConnell is a weapon, all over the court! Offensively, she has strong footwork on the block, can take the ball up with her left and right hand confidently, but is also just as deadly from the outside! No problem nailing 3's and mid-range jumpers, or driving baseline. She's physically strong, and knows where to be on both ends.
Morgan Blakeman- 5'10, G, 2023, Circleville: Morgan is an athlete! I like how she can handle the ball, her defense is solid, and she knows how to put the ball in the basket. Blakeman can shoot, with range. Her moves in the lane are strong- she's not afraid of contact, and finds ways to find open seams in the lane. She makes plays happen, and finds her teammates for open looks.
Emily Bratton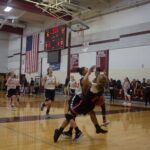 Emily Bratton 5'7" | SG Bloom Carroll | 2024 State OH –  5'8, PG/SG, 2024, Bloom Carroll: (Below with ball) Without any doubt, Bratton is a big-time player, who not only is wowing basketball fans now, but is going to make a college coach very happy someday!  Her knowledge of the game is high, and how she creates offense for herself while being face guarded pretty much all game, is impressive.  She's excellent 1 on 1, lethal from behind the arc, smart on transition, and attacks the defense and dishes to her teammates. She. Can. Play!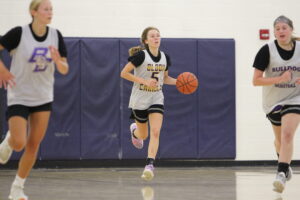 Sophie Ziel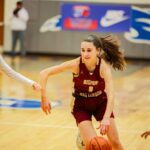 Sophie Ziel 5'8" | CG Bishop Watterson | 2025 State OH – 5'8, PG/SG, 2025, Bishop Watterson: (Below, shooting) As a coach who played against Sophie just over a year or so ago, let me tell you- she is difficult to stop! Ziel has so many weapons.  She's a walking bucket from anywhere, delivers off the dribble, penetrates to the basket, and moves the defense out because of her high skill shooting from deep. She has a high motor, that puts her game at a high level, both offensively and defensively.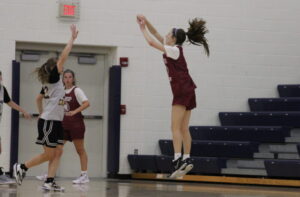 Alex Mosholder- 5'9, 2024, Bishop Watterson: Every team needs to have an Alex Mosholder! She does whatever the team needs, whether it be going after loose balls, crashing the boards, boxing out opposing teams best players, or taking the ball to the basket with authority. I love her intensity on defense!  She doesn't allow much space, and it fuels the team with the grit she shows all game. (Featured Photo, with ball)