Olivia Keeney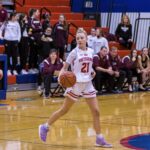 Olivia Keeney 5'8" | SG Grove City | 2023 OH – 5'8, PG, 2023, Grove City: (Below, with ball) I was impressed with Olivia's game, particularly in how she ran the offense with poise. She's aggressive in finding the open seam in the lane, with the ability to either score herself, or make pretty dish passes to her teammates. She's certainly not afraid of contact, and knows how to get to the free throw line. Love her quickness, and how she maintains that speed all game.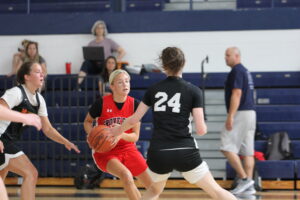 Thea Palmore- 6'0, F, 2024, Grove City: Palmore has such a physical presence inside. With her strength and size, she can certainly rebound, and capitalize on easy put backs. I like how she works hard for position on the block, her hands are ready to catch the basketball, and she has a strong drop step. No problem getting to the charity stripe and hitting nothing but nylon! (Featured Photo, rebounding)
Jamie Custer Jamie Custer 5'7" | CG Worthington Christian | 2024 OH – 5'6, G, 2024, Worthington Christian: It is very easy for me to find players who hustle all game, on both ends of the court, and play as if every possession is the deciding factor in winning. Jamie does all of this! When she picks passes, no one is going to catch her.  When Custer does her quick cross over dribble, she's gone- and its a bucket!  Loose ball on the court? That's Jamie's! She is highly valuable, with a crazy speed!
Meghan Mayotte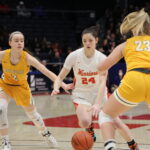 Meghan Mayotte 5'10" | SF Worthington Chrisian | 2023 State OH – 5'9, PG/PF,  2023, Worthington Christian: (Below, shooting) Mayotte is such a talented player to watch, and a mismatch nightmare for opponents. With her jumping ability, athleticism, and muscle, she plays like she's 6'0. Always crashing the boards, quick on reading passes and plays before they happen- great anticipation! And she wants the ball in her hands. She makes big plays, including when the game is on the line.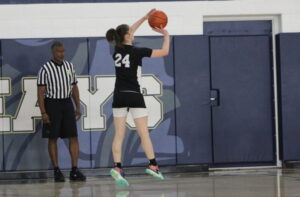 Kennedy Younkin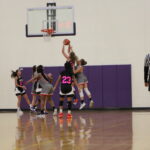 Kennedy Younkin 6'1" | PF Teays Valley | 2024 OH – 6'2, C/PF, 2024, Teays Valley: (Below, #21) Younkin is a double/double machine! As soon as Kennedy rebounds, she's immediately looking to push the ball on transition- quick outlet passes. She involves her guards- if the shot isn't there for her inside, she easily finds her guards for open outside shots. Great footwork in the paint/ on the block, and uses the backboard very well. She plays with passion!