When you watch Division I and Division II women's college basketball, you often see similar types of players on the court — in terms of size and length. College coaches are immediately drawn to the size and length of a prospect on a first impression basis. If a prospect has extreme length, they immediately think "upside" and that if this prospect can be developed in their skills, then they can be a contributor for them.
Length has its many advantages for a team. A team defense with length will limit an opposing offense by limiting their space to work with on the court. Smaller gaps in the driving lanes, less space and room to pass the ball around, etc. A zone defense with length is especially beneficial. Essentially the longer a zone team defense the more ground it can cover and more difficult it will make for the offense. Also, if you have a defense with good size, that limits your exposure for poor defensive matchups, such as a mismatch on that end with a smaller guard.
Now, let's get back to the Sanford Pentagon's "Who's Next Combine" to examine who had length and size among the participants. There were many to choose from with multiple 6'0+ prospects and longer guards at the event. Let's see who made the list.
Alexa Ham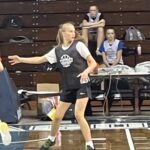 Alexa Ham 6'0" | SF Rapid City Christian | 2023 State SD  – 6'0 G/Wing 2023 – Rapid City Christian – I have seen Alexa on film, but she really stood out with her length in-person. She's a six-footer with an athletic frame and athletic ability. She will be one to watch for Rapid City Christian in her Senior season. I think she can be an NAIA/D3 next-level prospect. Her ranking needs to be significantly adjusted, and she may fall in the top 50 in the 2023 class.
Ellie Lems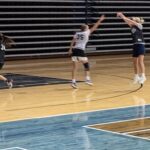 Ellie Lems 6'0" | SG Sioux Falls Christian | 2023 State SD  – 6'0 G 2023 – Sioux Falls Christian – Pentagon Schoolers – Ellie will always be talked about as a long guard in the state. Six-foot guards don't grow on trees in the state. Ellie isn't a flashy prospect, but she produces — with an inside and outside game. Surprisingly strong when she gets the ball in the paint.
Caylin Kelly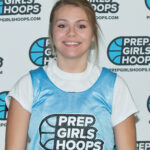 Caylin Kelly 6'0" | SF Florence/Henry | 2024 State SD  – 6'0 Wing 2024 – Florence/Henry – Pentagon Schoolers – Caylin seems to have grown some and her length has improved. She's being talked about at that 6'0 range now, and that will only help her recruitment. She's poised to have a stellar Junior season and be one of the top 2024's in a loaded class.
Brooke Jensen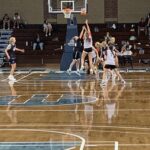 Brooke Jensen 6'0" | SF Vermillion | 2025 State SD  – 6'0 Wing 2025 – Vermillion – SD Attack – Brooke was already mentioned as the top overall performer at the event, and she happens to have a prototypical frame at her position. Her length, skill, movement, and shooting ability set her apart.
Savannah Armendariz Savannah Armendariz 5'7" | SG Rapid City Christian | 2023 State SD – 5'7 G 2023 – Rapid City Christian – Savanah is only listed at 5'7 but she has a long frame and arms for that height. She looked to be in the 5'9-5'10 range by initial glance. She has some solid skills with the ball and can shoot it as well.
Skyler Volmer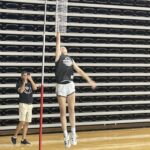 Skyler Volmer 5'9" | PG Lyman | 2024 State SD  – 5'8 G 2024 – Lyman – SD Network – Skyler's length seems to keep improving year-after-year. Her upside is tremendous and has rare length for a guard. Along with her verticality and overall explosion and athleticism, Skyler has proven to be a top 10 prospect in the rare 2024 class. If I'm a D2 coach, I'm targeting this high-upside prospect.
Abby Aslesen Abby Aslesen 5'11" | SF Howard | 2024 State SD  – 5'11 F/Wing 2024 – Howard – Abby will likely make a lot of these lists as a potential 5'11 wing. She's a borderline wing/interior prospect. She had some big double-double rebounding games for Howard this past season, and she'll likely continue that output. She has a long frame and a steady motor.
Kylie Ramlo Kylie Ramlo 5'10" | PF Elkton-Lake Benton | 2024 State SD  – 5'11 F 2024 – Elkton – Kylie is a prospect that I hadn't seen enough of prior to the event. She's one that stood-out with her length and gave a good first impression as far as her profile and frame. I can't speak a lot on her yet, but I will get back on the film on her.
Ava Craven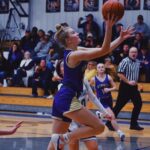 Ava Craven 6'0" | SF Winner | 2025 State SD  – 6'0 Wing 2025 – Winner – SD Attack – Ava seems to be dealing with a knee ailment of some sort, because she was wearing a brace and favoring it a little. That didn't stop her from showing off her rare length for a wing/2025 prospect. She also shot the three extremely well.
Alexa Goertz Alexa Goertz 5'9" | SG James Valley Christian | 2025 State SD  – 5'9 G 2025 – James Valley Christian – SD Network – Alexa stood out at 5'9 with her athletic/strong build and a solid length/skill combination. She's an under-the-radar 2025 prospect that will start receiving more and more attention going forward.
Carli Kuyper Carli Kuyper 6'2" | C Lennox | 2024 State SD  – 6'2 C 2024 – Lennox – Carli was the tallest prospect at 6'2, so she immediately stood-out from the bunch. She was solid as a rebounder, reaching over the top of smaller players.
Krista Langager Krista Langager 6'0" | C Sisseton | 2025 State SD  – 6'0 C 2025 – Sisseton – Krista is a true 6'0 center. A solid frame for a 2025 prospect that ran the floor and caught the ball well. She'll be a 2025 prospect to watch.
Madison Geiver Madison Geiver 6'1" | C Brandon Valley | 2025 State SD – 6'1 C 2025 – Brandon Valley – Madison had the best combination of a big/strong frame and height at 6'1. Her varsity role is yet to be determined but she should be a key piece on the inside for Brandon Valley in the future.
Isabella Anderson Isabella Anderson 5'6" Milbank | 2025 SD  – 5'7 G 2025 – Milbank – SD Network – Isabella is another 5'7 guard with extremely long arms, giving her upside with her great overall skills as well. She was highlighted as a top performer in the initial post-event article.