To construct this article and to easily decipher between a guard and other positions, I'll have a few rules.
Must be 5'8 or below, or if 5'9+ they must be a projected primary point guard at the next level. Many times they will be point guards for their respective high school teams.
In general, I wanted to mention how I place a position on a prospect and some rules there as well.
The position they own represents what I "think" they will project to when playing college basketball.
PG – Primary ball-handler at the next level. Generally, height doesn't matter, but anything over 6'1-6'2 it's tough and not common to own that position in the Dakotas specifically.
SG – Mainly plays at a wing spot and is known for shooting, especially the three.
CG (combo guard) – Size is not as important and they can play both the point and shooting guard position, and usually shoot the three fairly well.
SF/Wing – I like to think they're mainly 5'9+ and can do a little bit of everything. Shooter, slasher, rebounder, A 5'10-6'1 wing is prototypical depending on the level.
PF – The power forward position is the least common position.  They have a wide range from 5'10-6'4 or so. There's been 6'4 power forwards in the Dakota. They tend to play away from the hoop and can shoot.
C – A true back-to-the-basket and traditional post player. Usually 6'0+
Now let's get to the guards that haven't been mentioned yet from the "Who's Next Combine".
With nearly 60 prospects and three courts it wasn't easy seeing all of the action and having a true/educated evaluation on all of the prospects.
Here's who and what I did see from the guards at the event:
Trinity Watson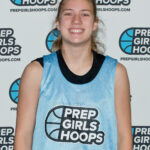 Trinity Watson 5'7" | CG Florence/Henry | 2023 State SD and Taylor Watson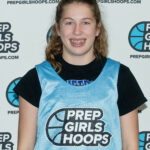 Taylor Watson 5'8" | CG Florence - Henry | 2024 State SD – They seem to have similar games, and each can defend and will their way to the hoop. Have solid jump-shots and will compete all game.
RaeLynn Vines RaeLynn Vines 5'6" | CG Dupree | 2023 State SD – RaeLynn was as surprise prospect to me. She stood out in a way with her skills with the ball, quickness, and overall movement. Her shot wasn't dropping as she'd like but you can tell she can normally shoot the ball on-target. Had a nice looking shot.
Amia Cottier Amia Cottier 5'6" | CG Bennett County | 2024 State SD – Amia is a smaller guard but she showed impressive quickness with the ball and got into the lane and scored over size multiple times.
Brynn Vanbockern Brynn Vanbockern 5'6" | CG Harrisburg | 2025 State SD – Brynn is a good 2025 prospect out of Harrisburg. She has a well-rounded skill-set and will be a "player" for her team very soon.
Jenna Miller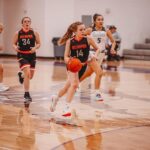 Jenna Miller 5'7" | PG Dell Rapids | 2026 SD – Jenna is a young prospect, being a 2026 but she was able to hang with the older prospects. She also has a solid all-around game with no glairing weaknesses.
Emery Larson – The 2026 prospect shot the ball extremely well from three from the action I saw. She's from a smaller school, but don't overlook her.
Carlie Lawrence Carlie Lawrence 5'6" | CG Timber Lake | 2023 State SD – Carlie is a big-time scorer in South Dakota and she'll be around the 20-point mark. I believe it was her the tweaked her ankle a little early on, but she has a smooth as ever jumper.
Stevie Wittler Stevie Wittler 5'6" | CG Sully Buttes | 2024 State SD – Another small school prospect that is an offensive threat. She seems to have gained some size. She was going off the dribble and being aggressive.
Kasey Hanson Kasey Hanson 5'8" | PG Vermillion | 2025 State SD – The lefty showed a true and smooth left-handed jumper. She was poised and under control in the five vs. five.
Madala Hanson Madala Hanson 5'4" | PG Dell Rapids St. Mary's | 2025 State SD – A small guard but she can really shoot the ball and was probably the best shooter behind Bloker. She caught fire a little and can easily get her shot off.
Reese Schmidt Reese Schmidt 5'6" | SG Florence/Henry | 2024 State SD – Reese is an under-rated guard on a talent-filled Florence/Henry squad. She did some good things and hardly made mistakes.
Eve Zephier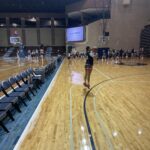 Eve Zephier 5'6" | SG Wagner | 2023 State SD – I know Eve plays with SD Attack, but she was pretty surprising and impressive showcasing herself. Rather than playing with four other college prospects in high school at Wagner. She can shoot and showed great quickness and finishing ability. Stock is up.
Hannah Leverson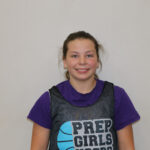 Hannah Leverson 5'4" | PG Sisseton | 2024 State SD – Hannah would have liked to shoot the three better, but she showed insane handles and passing ability. She was easily the best ball-handler and passer at the event.
Jaida Young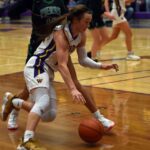 Jaida Young 5'7" | CG Watertown | 2023 State SD – Jaida has an impressive skill-set and plays extremely smart and efficient. Not many wasted movements. She can get off the ground on her jumper and it's "money".
Tyra Berry Tyra Berry 5'6" | SG Milbank | 2025 State SD – The 2025 prospect flashed with her ball skills and her demeanor and confidence in an event like this.
Logan Smidt Logan Smidt 5'7" | PG Brookings | 2025 State SD – Logan can shoot the ball at an elite level and has a strong frame. Plays with toughness and skill. A top 5 shooter in the event.