The Sanford Pentagon's "Who's Next" Combine brought a ton of talent under one roof. It was especially a great turnout and event with the late additions to the event over the weekend. There were nearly 60 prospects in attendance, and no shortage of talent. The prospects performed drills to start things off and everything started to escalate more — with increasing competitiveness. In the five-on-five we got to see the prospects show their overall games and show a true evaluation to Prep Girls Hoops and the college coaches in attendance. There was an abundance of colleges in attendance, seeking the talent the state has to offer.
What stood-out about the overall play was there was tight defense being played and many were driving to the hoop rather than shooting outside shots. Don't get me wrong, there was threes being made but the defense wasn't allowing easy looks.
In this post, I'm going to highlight the prospects that stood out in a big way. I was able to find eight off the top of my head that separated themselves from the pack.
There is a ranking or pecking order in how the top 8 are being placed. We'll start with the highlighters and move our way down.
Brooke Jensen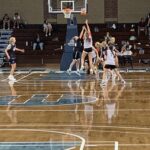 Brooke Jensen 6'0" | SF Vermillion | 2025 State SD  – 6'0 Wing 2025 – Vermillion – SD Attack – Brooke was the most impressive and consistent performer at the event. Some prospects had their up and downs, but Brooke was consistently impressive for the four-hour event. She was tough to handle, getting to the rack and hitting threes. I wasn't too sure about the SD 2025 class, but Brooke and others in the class are starting to gain some heavy traction. The upside is clear here with Brooke. She's #1 in the class for a reason.
Isabella Anderson Isabella Anderson 5'6" Milbank | 2025 SD – 5'7 PG 2025 – Milbank – SD Network – Holy buckets was Isabella aggressive as a playmaker. Her stock is on the rise to say the least. She has a quick handle and she was hard to contain off-the-dribble. She can shoot the ball, but she really didn't need to show that aspect of her game off. Isabella is already rated highly in the 2025 class, but she may need a slight upgrade.
Skyler Volmer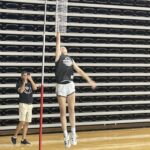 Skyler Volmer 5'9" | PG Lyman | 2024 State SD  – 5'8 G 2024 – Lyman – SD Network – Skyler was a stock-riser in terms of her frame and athletic abilility. She's long and can jump, as you can see in the featured image above. Her ranking is only going in the upwards direction, becuase she has immense upside with her attributes and profile.
Reagan Rus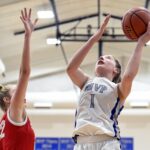 Reagan Rus 5'9" | SG Mt. Vernon | 2025 State SD – 5'9 G/Wing 2025 – Mt. Vernon/Plankinton – SD Attack – Reagan was getting to the hoop relentlessly. She was taking her opponents off-the-dribble whenever she had the opportunity. She doesn't shoot from the outside, but I wouldn't say it's a major weakness. She gets to the hoop easily enough that a jump-shot might be a poor shot.
Lauren Grinde Lauren Grinde 5'6" | SG Tri-Valley | 2024 State SD – 5'6 G 2024 – Tri-Valley – Pentagon Schoolers – Lauren always seems to standout in events like this. She has a complete game as a passer, ball-handler, and shooter. A great feel for the game and her passing is what stood out the most. Makes the smart pass and can also pull off a fancy one.
Cierra Watkins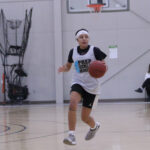 Cierra Watkins 5'6" | PG Sioux Falls Jefferson | 2023 State SD – 5'6 PG 2023 – Sioux Falls Jefferson – SD Network – Cierra just seems to play a smooth mistake-free game every time I see her. That's with her ball at Sioux Falls Jefferson and also at events/showcases. She was going off-the-dribble and finishing with her left easily. Saw her have three straight buckets.
Sawyer Stoebner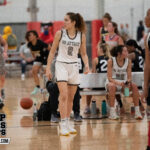 Sawyer Stoebner 5'9" | CG Mitchell | 2024 State SD – 5'9 G 2024 – Mitchell – SD Attack – Sawyer really started to show herself in the full-court setting. She was getting up-and-down and being a playmaker. She has a good size and skill combination at the guard spot. Rebounds well for a guard. She may be bumped up a spot or two in the rankings.
Isabelle Bloker Isabelle Bloker 5'5" | SG Sioux Valley | 2025 State SD  – 5'5 G 2025 – Sioux Valley – SD Attack – Isabelle was money from three. I don't think I saw her miss — maybe once. She doesn't have elite size but she sure is an elite three-point shooter. She must be guarded tightly from three. Her three-point shooting was noticeable. A quick athlete as well.