With the high school players getting underway with their respective teams there have been players that showed they are a big part of their teams from upcoming juniors and seniors leading the way. You will want to remember these names as they are getting on the radar's of college coaches.
Rylee Bennett Rylee Bennett 6'1" | SF Akron Hoban | 2023 State OH   6'1 Forward Hoban- has improved her game from inside out the play she has been bringing from this AAU season to summer league shows. She has been able to show how she can dominate a player with her size. She has looked like a totally different player she will be a major factor as and when the season gets going look out for her she will be on point.
Alexis Canning 6'0 Forward Kent Roosevelt solid frame to play multiple positions on the floor, she was outstanding during her junior campaign and this summer looks as if she has taken the jump and has got better. She still shows how she can play inside and outside of the paint hitting deep shots and still controlling the glass, a physical player that will make this Kent team even better than a year ago.
Riley Chmielewski 5'7 Point Guard Green quick guard who can get in the passing lane and get the ball up the court, after having a stellar junior year she will be more determined to get this team to where it should be, playing well here at Springfield during the summer always the best time to work on any skill set before returning back to your AAU team and then school season you can tell she picked up the paste and wont stop
Mackenzie Edingburgh Mackenzie Edingburgh 5'8" | CG Akron Hoban | 2024 State OH 5'8 Combo Guard Hoban, tenacious defender that makes it hard for the guard to bring the ball up the floor, can move her feet well and force a lot of turnovers. As a junior she will be required to do more an play more she has been looking good have not missed a beat. She see's the floor well and get the ball out in transition for open layups or the three ball. She should and will have a good junior campaign season ahead.
Ariana Crockett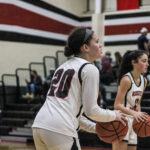 Ariana Crockett 5'8" | SG Kent Roosevelt | 2023 OH 5'7 Point Guard Kent Roosevelt still looking sharp playing with different set of skilled players on her AAU team made her even a better player with her team this summer league. She has smooth passes and can still shoot the ball well and with confidence. Good team player to be around as she looks to make everyone better, she should have a good senior year.