Last week I attended a couple of summer league shootouts in my local area and was able to see some incoming freshman, JV, and future varsity players that I haven't seen before.
Below is a mix of Freshman, JV, and Varsity standouts from Week 2 of the Summer Shootouts hosted at Montini.
'25 Sally Kennedy | 5'3 Guard | St. Ignatius
Kennedy's length and poise play style allows her to show her talent with and without the ball in her hand. Tremendous floor vision, awareness, passing accuracy, and overall IQ of the game. Offensively, she has the potential to be a legit three-level scorer. She can attack the rim, or shoot the long ball. Defensively, her length is the key. She can guard and contain multiple positions and rebound at a high clip on both sides of the ball. Huge upside.
'25 Audrey Clavadestcher | 5'6 Wing | St Ignatius 
A paint presence on both sides of the ball. Defensively, Audrey can contest, alter and deflect shots due to her length. She plays the gaps and help-side extremely well too. On the other side of the ball, she's at her best when around the rim. Soft-touch, quick moves and uses the backboard effectively.
'26 Delia Sullivan | 5'4 Guard | Mother McAuley 
The incoming freshman is going to turn a lot of heads. She plays the game with extreme poise and shows her high IQ on almost every possession. The ball-handling is strong and her vision/floor awareness is impressive. Sullivan can shoot the long ball, or attack the paint with the goal of making a play, not to get fouled. As a freshman, she already seems to play the game with no doubt in her abilities. Definitely a player to keep your eye on going into the fall season.
'25 Kiaya Johnson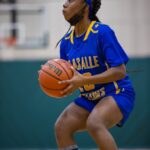 Kiaya Johnson 5'4" | PG Whitney Young | 2025 IL | 5'4 Guard | Whitney Young 
An all-around nightmare to deal with. On the defensive side of the ball, Johnson will pick you up 94 feet, and battle with you the entire possession. She knows how to jump gaps, when to gamble and when to play it safe. On the offensive side, she's active with and without the ball. her mindset is to hustle and work harder. The confidence is there to score at all levels. She can attack the paint with floaters, blow-bys, or simple finishes. The 3-ball is in her skillset as well.
'24 Elle Brushuck | 5'10 Guard | Willowbrook
Versatile, long, and athletic. Brushucks basketball skillset is wide-ranged. She can defend/play multiple positions, score at all three levels, make plays, and can control the tempo from start to finish. With or without the ball, she's a threat. In the open court and half-court, she never stays idle. With a position change going into next year, Elle seems to already have a knack for being a "Point Forward". Tremendous upside.