Here we are, just a few days away from the start of the July live viewing period. The bulk of the AAU season is in the books and that means it's time for the Prep Girls Hoops rankings update, summer edition. A lot has happened since we last revised the prospect rankings in February. Many players have improved their stock significantly, and plenty of fresh faces have emerged. We've put a ton of time into evaluating the players week after week and the updated rankings reflect what we saw.
The most common question we get at this time of year is, 'How do you do it?' This primer on the ranking process is our way of answering that question.
HOW DOES IT WORK?
The ranking of prospects isn't a science, and everyone has a different opinion about a player's abilities and potential. Some value one set of assets more highly than another. That's why we try to involve a large number of people in the process. In addition to the contributions of yours truly and my colleagues Rudy Ruffin and Tony Ragulen, during every rankings cycle we draw on the opinions of basketball people from across the state, from high school and AAU coaches and club directors to college coaches at all levels and our own network of educated observers.
Players are ranked for the first time during the fall of their freshman year. Last week we released our 2026 Watch List, a compilation of  20 notable incoming freshmen. In the fall we'll put out the Freshmen 50 which will officially rank the best 2026s for the first time. Mid-winter we'll add another 25 names to that list and next June we'll expand it to 100 players. By the time the players reach the end of their sophomore year the list will have grown to at least 150 names. With Minnesota's deep talent pool we made the decision last year to expand the list to 200 by the time the players reach their senior year. Here are a few important things to know about the process.
You can't buy your way into the rankings. Unlike some lists out there, PGH doesn't let you taint the rankings with your wallet. Our list is based strictly on merit, not whether you signed up for a profile or paid for an evaluation.
Affiliation with a particular AAU club or shoe company circuit won't give you a leg up. Prep Girls Hoops is wholly independent. While playing for a more high-profile team will probably get you seen earlier, it won't ultimately help you make it into the prospect rankings. We try to cover all of the teams, from the major franchises that have 30 squads to the one-off independents who might be a little harder to see.
We scout players from across Minnesota. The proliferation of online viewing options has definitely helped kids from the more remote corners of the state get seen earlier and more often. So has the vast improvement of the non-metro AAU teams.  Our network of observers has grown a lot over the years and we are confident that we are looking at the best players in Minnesota.
We watch a ton of basketball. Personally, I see more than 150 high school teams every year and more than 200 games. I spend at least 20 hours in the gym at every AAU event. We attend showcases, summer and fall league games, and other exhibition contests. I love watching practices, too, because you can learn an awful lot about a player in that setting.
Other than the participation of our scouts/writers, the entire process is anonymous. Evaluators provide fair and honest input because they know it will be kept private. I am the only person who knows who is participating and I'm not telling. If a participant provides feedback that is clearly biased in favor of their own club or team they aren't invited back.
College coaches play a big role in the process, particularly for players in the top 20-30 spots. We have a pretty good handle on who is getting scholarship offers, and what level of offers they are getting. When you see movement at the north end of the list, the input from college coaches has most likely played an important role in that.
Although it is possible to make it into the rankings without playing AAU basketball your odds are much better if you do. Players who don't participate in AAU are passing up the best exposure opportunity available. If you really want to play at the next level you need to make every effort to participate in at least a few events.
Everyone wants to know what we are looking for in a player. It's pretty simple really:
Athleticism
Size
Ball-handling skills
Shooting ability
Basketball IQ
Defensive understanding
Communication
Effort level
Toughness
Intangibles such as body language.
Finally, the most important point: Players are ranked on their potential as COLLEGE PROSPECTS. It is NOT a ranking of performance in high school. That is a huge distinction, and a fact that can be  challenging for readers to digest. That's why a small guard who scores 15 or 20 points a game in high school can be ranked at #125 and a lanky forward toiling away on the junior varsity can be in the top 25. This scenario happens every year, and the reason is simple – the things that make a player successful in high school are not  the same as what will help them do well at the next level. Also, players mature at a different pace. Some kids get big in 7th grade; others not until they are well into high school. That is, pardon the pun, a huge factor.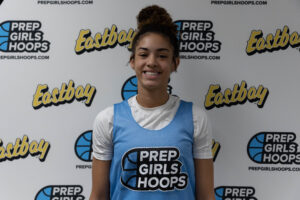 COMING UP
The Class of 2025 rankings update is complete and will be posted on Thursday. We have expanded the list of incoming sophomores to 100 players this time around. The current #1 player in the class is Aaliyah Crump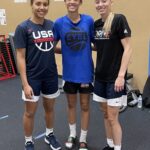 Aaliyah Crump 6'1" | SF Minnetonka | 2025 State MN (photo above) of Minnetonka (North Tartan EYBL). We are down to the final decisions on the 2024s where Olivia Olson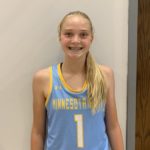 Olivia Olson 6'1" | CG Benilde-SM | 2024 State MN of Benilde-St. Margaret's (Minnesota Fury 2024 UAA) occupies the top spot. So much has changed in the Class of 2023 so those rankings are currently undergoing a complete makeover to better reflect where everyone is at right now. I think it's the most difficult process we've been through in the past half dozen years. The current #1 is St. Michael-Albertville's Tessa Johnson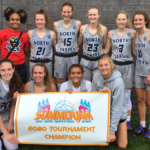 Tessa Johnson 5'11" | SG St. Michael-Albertville | 2023 State #36 Nation MN (North Tartan).
ONE FINAL THING
Rankings information is available exclusively to Prep Girls Hoops subscribers. If you don't have a subscription, this would be a fine time to get one. Use my discount code GMac20 at checkout and you'll receive 20 percent off the regular subscription price.