I don't like resorting to the graphic I had to use in this article but I lost all photos with my last phone.  So unfortunately there will be no nice photos of these players.
This will be the last article on the '23 Power Forwards.  The rest of the players ranked at this position I either haven't seen or I don't have very good notes on them to jog my memory from when I did see them.  But as rising Seniors, these players will be among my top priorities in the upcoming season.  
Whitney Lind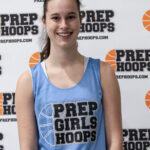 Whitney Lind 6'1" | PF Cooper | 2023 State KY – 6'1″/PF Cooper
Lind, who recently committed to Lehigh, is a three-level scorer with the ability to drive to the hole for layups and pull-up jumpers or shoot the three from the Wings.  She can make the free-throw line jumper, and short-corner jumper and makes highly effective flex and dive cuts to the basket.  Additionally, she can score in the paint with a quick pivot turn move.
Jarie Thomas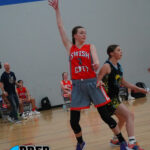 Jarie Thomas 5'11" | PF Henderson County | 2023 State KY – 5'11″/PF Henderson County 
Thomas has long arms enabling her to elevate above most players for rebounds, block shots and make deflections that might get around other players.  She has a high motor that she uses defensively and while working to be open to receive the ball within the offense and on the break.  She has the quickness and skills to play the 3 with the physical traits and toughness needed at the 4.  
Emma Barnett Emma Barnett 6'2" | PF Mercy | 2023 State KY – 6'2″/PF Mercy  
Barnet has the ideal long frame of a Stretch 4 that she utilizes to shoot over defenders on the perimeter and rebound in her zone.  While not particularly fast she has good footwork and mobility that she uses to block shots on interior defense.  She does a good job using perimeter slides and coming off screens to get open.  
She is an important piece for a Mercy team that I expect to see represent the 6th Region in the Sweet 16 next season.  She plays with grace and finesse but has a streak of toughness to her game.  Perhaps one of her best strengths is her ability to facilitate passes to cutting teammates from the wings.  
Jamie Cowan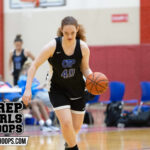 Jamie Cowan 5'11" | PF Paris | 2023 State KY – 5'11″ Paris 
Cowan was a factor in leading Paris into the All "A" Classic last season with her great ball skills and outside shooting ability.  Perhaps her best asset is the ability to attack the basket, draw contact, and score through that contact.  She fights for position inside and does an excellent job moving her feet to defend the ball on the outside.  She understands positioning and has a sense of where the ball will karem off the backboards. 
Raegan Barrett Raegan Barrett 5'11" | PF Great Crossing | 2023 State KY – 5'11″ Great Crossing 
A strong and sturdy post-up option that can dominate the glass creating second-chance points for herself.  Barret is an unselfish teammate that could be more of a scoring threat if needed.  She can hold down her position on the interior or step away from the basket and defend on the ball.  She has great stamina and can seemingly go all game with rare breaks for a shot of water and a blow.  
Sarah Clark Sarah Clark 6'0" | PF Elizabethtown | 2023 State KY – 5'11″/PF Elizabethtown 
Clark is a hard-working Stretch 4 with a sturdy frame.  She runs the floor, rebounds in her zone, has a quick release on her outside shot, and challenges shots in the paint.   She is a key contributor on a team with a ton of depth and a balancing presence on the interior defense in man and zone.