The Commonwealth is loaded with talent at the Small Forwards position in the class of '23.  There is no excuse for teams that recruit this state not to find a suitable option at the 3 this season.  No excuse except, that you waited too long to offer these girls.  
Apologies to the players who are not in this two-part Ranking Update.  Some of you I have not seen at all or enough to write about you from memory.  Now that you are Seniors you are my highest priority.  
Timberlynn Yeast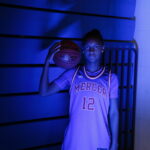 Timberlynn Yeast 5'8" | SF Mercer County | 2023 State KY – 5'8″  Mercer County  West Virginia Thunder 
The 1st word I think of to describe Yeast is SPEED.  She has tons of skill and is clearly a very smart player but what really makes her great is how fast she can move.  With her Basketball IQ as a guide, she would be an important player just based on her quickness.  
When you add in her impressive, do-it-all skillset it becomes obvious why we have ranked her as the #1 Small Forward in the Commonwealth and 3rd overall.  The gap between her and the 2 players ranked above her is razor-thin and I couldn't argue with anyone who believes she should be listed 1st.  
Yeast does fit in the Small Forward category, but I believe we could have also listed her as any type of Guard.  Her passing skills are at such an elite level and she is very team-oriented that she may find a home at the Point in college.  
Amy Thompson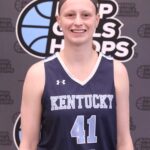 Amy Thompson 6'1" | SF Whitefield Academy | 2023 State KY – 6'0″  Whitefield Academy  Kentucky Ice Select 
Thompson has risen several spots in our overall rankings this summer, but I believe she is still in the same spot at her position.  That speaks to how loaded the state is with talent at Small Forward right now.  
Thompson is a leader on the court, largely by example.  As with most players at this position she is a generalist that can do everything at a high level.  If she could develop one or two solid mid-post moves she could become unstoppable this season.  That would also work to utilize her excellent passing skills on a team that is loaded with shooters.  
Ella Koralia Ella Koralia 5'11" | SF Ballard | 2023 State KY – 5'11″  Ballard  
Koralia plays Point Guard for Ballard but could be so much more effective at other positions if her team had anyone that could run the offense.  On the next level, she will certainly be a Shooting Guard or Small Forward.  
She shoots the three in transition and can knock it down from anywhere she can square her shoulders.  She is smooth with the ball, and though she is not fast on the bounce can get to the rim using long strides.  Her floater and pullup jumper are excellent but she could be so much more effective moving without the ball and running off screens.  
Kylie Floyd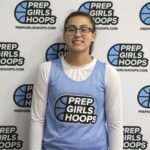 Kylie Floyd 6'0" | SF Butler Traditional | 2023 State KY – 6'0″  Butler Traditional  Louisville Lady Trojans  
Floyd is a strong-bodied player with a highly diverse skill set.  This summer I was able to see her play in more of a featured role and she put on quite the display.  I had previously known her primarily as a shooter from long and midrange.  But she can also put the ball on the floor and get to the basket to finish.  
I saw her as more of a Stretch 4 on the next level with a good Post Up game and solid defense at any position.  I have gone as far as to call her a Defensive Stopper in the past.  But she made it clear that she is more than that and I look forward to seeing that translate during the upcoming season.