Alexa Mader, 5-10 Tippecanoe-
She is back on the court after taking a year off to focus on volleyball. Alexa was a big leader for the Red Devils as she picked up where she left off. Long and athletic, she has a good inside/outside game. Able to finish at the rim and rebounds well. Defensively she can alter shots with her length. Can score in a variety of ways. 
Chloe Kelly, 5-5 Madison Plains- Impressive point guard and leader for a team filled with a lot of younger talent. Chloe has a good floor game and ball handling skills allowing her to run the offense for her team. Nice range and a good midrange game. Can put the ball on the floor and make a move to the basket. Expect a good senior season for Chloe.
Abby West

Abby

West

5'11" | CG

Springfield Greenon | 2023

OH

, 5-10 Greenon-
Jim and I saw West
(featured image)
play on the PGH Circuit this spring with the Cincy Chargers and she was very impressive. She is a taller wing with excellent handles and a great outside shot. She can knock them down from all around the perimeter including deep in the corner. She also hit a buzzer beater from midcourt at Urbana. We both love her game!
Claire Henry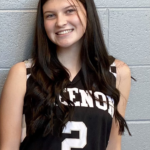 Claire

Henry

5'9" | PG

Greenon | 2023

OH

, 5-9 Greenon-
She is a bigtime leader and can play any position on the court. She will post up a guard or take a post player outside, she adjusts very well to what is in front of her. She rebounds well and can lead the break. Makes great decisions with the ball and runs whatever offense is needed for her team.
Macy Young, 5-6 Greenon- Greenon showed they have good scorers, and Macy is a big part of their success using her high basketball IQ to always be in the right place. She works very hard to make plays happen and is always around the ball ready to box out. Does the little things and is a team-first kid!
Hailey Fannin, 6-0 Greeneview- She was one of the biggest surprises on the day at Urbana. She led the conference in blocked shots last season as her defense was solid in the paint in this Shootout. Offensively, she did have some nice moves and was effective around the basket. Has a soft touch and able to finish.
Sami Bardonaro

Sami

Bardonaro

5'6" | CG

Vandalia Butler | 2023

State

OH

, 5-10 Butler-
No surprise how well she played coming in as one of the top guards in the entire state of Ohio. She has taken on the leadership role well as a senior and looked like she meant all business out there. She is dangerous all over the court and can beat you in many ways. Scores everywhere and can force mistakes.
Riley Hodson

Riley

Hodson

5'9" | SG

Valley View | 2023

OH

, 5-10 Valley View-
 She showed good leadership during her time on the court. Love her knowledge of the game as she has also embraced a solid leadership role as a senior. Will be counted on more this year as one of the primary scorers, while continuing to play good defense. Good passer and has sharp passing skills with good court vision.