With lots of time to improve you do not want to miss seeing them play. Very well skilled players with a lot of things to learn, but always working hard every day!
Peyton Mounce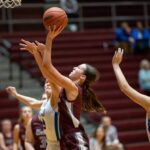 Peyton Mounce 5'9" | SF Urbana | 2025 State OH , 5-10 2025 Urbana- Much improved and look for her stock to rise when the 2025 ranking come out next week. She is a very talented combo guard with great handles and can hurt you both from the perimeter or on the drive to the rim. Smart player with a high Iq for the game, excellent passer and length creates issues on defense.
Lyza Forson, 5-9 2025 Urbana- Another key part of a young Urbana squad, her game has also improved with the addition of a solid outside game. Physical player who can play through contact and finish. Good court vision and moves well. She has developed a more consistent three-point shot as she hit a few of them over the weekend.
Alex Dixon, 5-6 2026, Urbana- One of the top freshmen in the area when she steps into high school in the fall. Runs the floor very well, distributes the ball well and uses her quick hands to create for her team. Also, a very good perimeter scorer with deep range from behind the arc. Very poised for a freshman, coaches' kid like Peyton, both well developed with their skill work.
Savannah Clawson, 5-7 2026, Tippecanoe- The very first thing that stood out for Clawson and her coach even told Jim the same thing was her defensive presence on the court. She is a long and athletic wing with good handles and makes good decisions for a younger player. Forces turnovers with pressure, can turn them into points for her team.
Courtney Post, 5-11 2026, Tippecanoe- Not sure what level she will play this winter, but she showed some good things as she also heads into her freshman season. She did a good job posting up and when she is in the paint, she uses her body well to rebound and stay active around the ball. She just needs to keep working on her game and stay in the gym, focusing on what she can do to help her team this winter.