USF Team Camp Stand Outs – Class of 2023
By Michael Wholey 6/27/22 10:00 PM EST
USF traditionally holds one of the top team camps in the state of Florida.  We stopped into the check out the action on Sunday to see bracket play, as teams competed to take home a championship on day 3 of the action.  Here are some of the standouts in the class of 2023.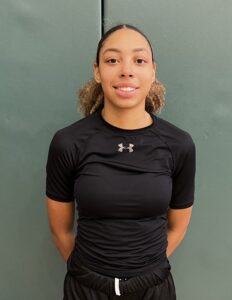 Mia Lake (West Port HS) – Guard
Lake was a smooth, long athletic guard with a lean, strong build.  She ran the point, handling the ball vs pressure, selectively picking her spots to be aggressive and look for her opportunities to score.  She has a quick first step and is explosive off the dribble, with the ability to get to the rim when she wants. 
Peyton Knettel-King (Ultimate Warriors) – Forward
Knettel-King was a good sized, versatile forward who was an impactful rebounder on both ends of the floor and had a steady presence in the paint.  She helped lead her Warriors team to the championship game – playing with a consistent energy and being very active.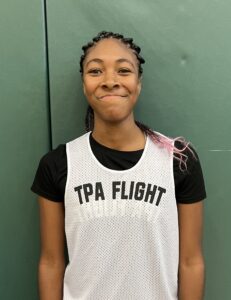 Journie Cherry (TPA Flight) – Guard
Cherry is a long, active perimeter player who was active on both ends of the floor.  She ran the floor hard, pursued rebounds and loose balls, and brought consistent energy and effort. 
Arianna Mosley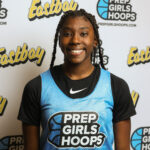 Arianna Mosley 5'9" | SF Tampa Prep | 2023 State FL (Tampa Prep) – Guard
Mosley played well – knocking down 3s, attacking off the dribble, and rebounding well on both the offensive and defensive ends of the floor.  She has an impressive body and is one of the state's top athletes!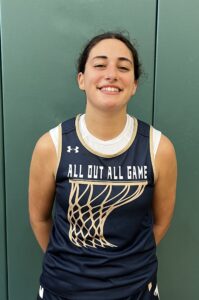 Emily Montes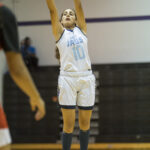 Emily Montes 5'9" | CG Palmer Trinity | 2023 State FL (Palmer Trinity) – Guard
Montes is a strong, skilled perimeter player with a high basketball IQ.  Playing mainly the PG position for Palmer Trinity, Montes handles the ball vs pressure, pushes and attacks in transition, and helps promote and encourage ball movement by giving the ball up freely to the open player and moving well with the ball.  She is extremely consistent with her energy and effort and plays with a strong competitive spirit. 
Ace Sturdivant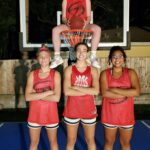 Ace Sturdivant 5'10" | CG Clearwater | 2023 State FL (Clearwater HS) – Guard
Sturdivant is a skilled perimeter player with solid handle and is a good outside shooter.  Her conditioning often holds her back as she is much more consistent and effective in the beginning of games and struggles when fatigue sets in.  Her offensive skillset is in the upper percentile in comparison to other perimeter players in the state and she has a high upside as her conditioning improves.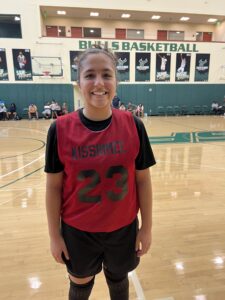 Vanessa Diaz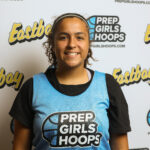 Vanessa Diaz 5'5" | PG Gateway | 2023 State FL (Gateway HS) – Guard
Diaz is strong, stocky, skilled guard with 3-point range, high basketball IQ, good court vision, and a shiftiness off the bounce and in the paint.  She plays hard, makes good decisions on the court, gives up the ball to open players, and changes speed and direction well to attack off the dribble and get into the paint!
Tyrah Townsend Tyrah Townsend SG Gulf Coast | 2023 State FL (Gulf Coast HS) – Forward
Townsend is a big wing / forward who was an active role player who defended multiple positions, was aggressive on the glass, and ran the floor hard.  With Leslie launching a number of 3s, Townsend does a great job on the offensive glass, keeping balls alive, pursuing balls and finishing them in the paint on putbacks, as well as kicking out to the perimeter.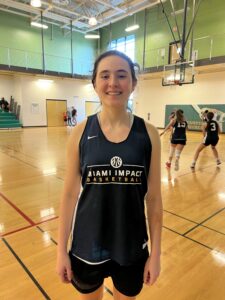 Sofia Travieso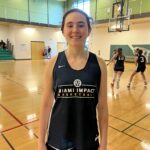 Sofia Travieso 5'8" | PG Carrollton School | 2023 State FL (Carrollton) – Guard
Travieso is a big, skilled guard who can handle the ball, initiate offense, shoot a high percentage from 3, and is the team's best player.  She logged a ton of minutes all weekend serving as the team's leader on a very young team.  She has a strong court presence and plays with confidence and serves as an extension of the coach on the floor. 
Liv Fuller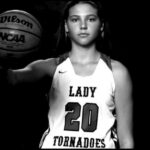 Liv Fuller 5'10" | SF Clearwater | 2023 State FL (Clearwater HS) – Wing / Forward
Fuller is always fun to watch, as she consistently plays hard and aggressive on both ends of the floor from the jump ball to the final buzzer.  While her effort, energy, rebounding, and shot blocking are something that we have become used to seeing every time we see Fuller – it is her developing perimeter game that has changed over time.  Her commitment to developing her perimeter skills are obvious as her handle and shooting ability continue to improve every time I see her play.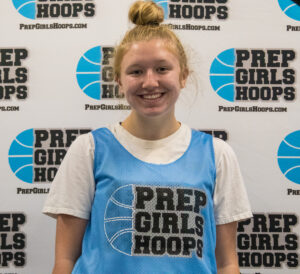 Madelyn Leslie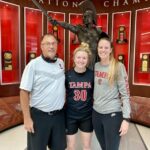 Madelyn Leslie 5'10" | SG Gulf Coast | 2023 State FL (Gulf Coast HS) – Wing
Leslie displayed impressive outside shooting, knocking down five first half 3s, accounting for 15 of her teams 21 points.  Leslie is a big guard / wing, who is one of the top 3-point shooters in the state.  The University of Tampa verbal commit will be Gulf Coast go-to player this season and will look to continue the strong success of the Gulf Coast program. 
Michael Wholey is Prep Girls Hoops Florida Senior Scout and oversees the Florida rankings along with other contributing members and writers for @PGHFlorida.  You can email Michael Wholey at WholeyPrepHoops@gmail.com or DM him on Twitter or Instagram @WholeyPrepHoops.