The Wilkins Summer League is premier event at this time period in Michigan girls basketball. There will be plenty of elite teams and talent in the Belleville gym. We're going to look at some of the talent that will be on hand for college coaches and fans to see over the course of the event.
https://basketball.exposureevents.com/171210/wilkins-summer-league/schedule
Paris Bass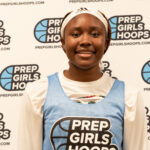 Paris Bass 5'11" | SF Wayne Memorial | 2023 State MI (2023, SF, Wayne Memorial)
Bass is a returning all conference player on a team with state title type talent. Her length, athleticism, and basketball IQ put her a step ahead of most.
Alena Blumberg Alena Blumberg CG Dexter | 2025 State MI (2025, PG, Dexter)
Blumberg is poised beyond her years at the lead guard position. She's an efficient ball handler that gets the ball to where it needs to be.
Colleena Bryant Colleena Bryant 5'4" | PG Wayne Memorial | 2025 State MI (2025, PG, Wayne Memorial)
Wayne Memorial has a bit of a lead guard lineage and Bryant fits right in. She's a downhill guard that can put a lot of pressure on an opposing defense.
Makenna Clement Makenna Clement 6'1" | PF Lake Fenton | 2023 State MI (2023, PF, Lake Fenton)
Clement is one of the most active and effective post players around when it comes to boxing out and working for offensive position. This helps her stay ata high percentage when it comes to her looks at the rim.
Indya Davis Indya Davis 5'9" | SG West Bloomfield | 2024 State MI (2024, SG, West Bloomfield)
Davis is a supreme talent in the class of 2024. She's a terrific 2 way player that finds ways to influence every game.
Molly Deurloo Molly Deurloo 5'9" | PG Howell | 2023 State MI (2023, PG, Howell)
Deurloo is a solid 2 way guard that can play on and off the ball. When she gives the ball up, she stays active, moving and cutting hard to create space.
Sydney Hendrix Sydney Hendrix 6'0" | SF West Bloomfield | 2023 State MI (2023, SF, West Bloomfield)
Hendrix is a premier forward talent. She has the ability to work her matchups by playing inside-out or outside-in.
Charlotte Miller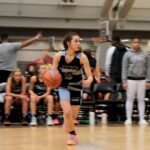 Charlotte Miller 5'8" | CG Ann Arbor Father Gabriel Richard | 2025 State MI (2025, CG, Ann Arbor Gabriel Richard)
Miller has a very mature offensive game. She has a smooth jumper and is an underrated passer that can hit cutters in stride.
Madison Morson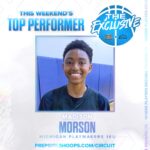 Madison Morson 5'8" | SG Plymouth Salem | 2024 State MI (2024, SG, Salem)
Moran really turned heads on the PGH Circuit this spring. She's an athletic scorer that can pull up for a jumper on a dime.
Autumn Pernell Autumn Pernell 5'8" | SF Ypsilanti | 2025 State MI (2025, SF, Ypsilanti)
Pernell is an athletic high upside wing. She can get up the court in a hurry and make big plays in the open floor.
Jordan Peterson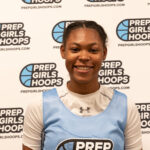 Jordan Peterson 5'10" | PF Belleville | 2024 State MI (2024, PF, Belleville)
Peterson is a program type player. She's all about grit, toughness, and just plain old out working her opponent.
Sarah Rekowski Sarah Rekowski 6'3" | C Hartland | 2024 State MI (2024, PF, Hartland)
Rekowski is flying up the recruiting charts and for good reason. She's a ferocious rebounder and could be an elite defender in the state next season.
Aniyah Stone-Palmer Aniyah Stone-Palmer 5'10" | SF Belleville | 2023 State MI (2023, SF, Belleville)
Stone-Palmer can attack the glass and both ends and uses her length to enhance her rim protecting abilities. She's a strong finisher at the rim as well.
Stephanie Utomi Stephanie Utomi 5'9" | SG Arbor Prep | 2024 State MI (2024, SG, Arbor Prep)
Utomi is a big time weapon off the wing. She can attack and score in a wide variety of ways making her a very tough matchup.
Alli Zajac Alli Zajac 6'1" | SF Tecumseh | 2025 State MI (2025, SF, Tecumseh)
Zajac came into high basketball blazing, and it looks like that will be a regular thing. She can flat out score in bunches and will always be a double-double threat in points and rebounds next season.