As I attend summer tournaments during this Grassroots season I've viewed a plethora of excellent talent throughout the state. At the holiday break we're halfway through and the following is a "Best of the Best" list of what I've seen in the graduation classes of 2023 and 2024;
Silondra Ingraham-Arkansas Sting Green, 5'9" SG-Silondra will be a senior at Little Rock Central this Fall. What drew my attention to her was that not only is she a very well-rounded player, but she is a leader. Her skill level is high in every category, but she also does the little things that measure an outstanding result in her overall performance grade. Silondra will play a key role for her school this coming season.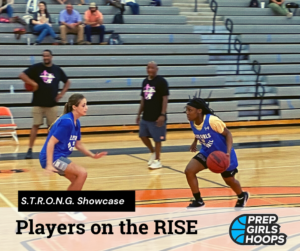 Jayla Stirgus Jayla Stirgus 5'4" | PG Sylvan Hills | 2023 State AR -Arkansas Select 2023, 5'5" PG-Jayla handles the basketball like it's a part of her body. She is quick and very smart. Her anticipation skills are excellent. She can let the game come to her and create offensively. She shoots the three-ball but is most effective penetrating and scoring, or dishing off for a high percentage shot for her teammate. Her physicality on defense makes up for her deficiency in size. Jayla will be a senior at Sylvan Hills High School.
Stella Parker-ENG 17U, 5'9" SG-Stella will be a senior at Brookland High School this Fall. Her leadership skills are outstanding. She stays  focused throughout the game. She can shoot the three but is much more effective 15 feet and in. Her court vision is good and she moves very well without the ball. Stella has the size to play at the next level.
Jayce & Jenna Cook Jenna Cook 5'6" | PG Cabot | 2024 State AR -Arkansas Select 2024, 5'7" SG-These sisters are like two-peas-in-a-pod. They complement each other in that, as their games are identical, they each can perform a different role if needed. Both will be juniors at Cabot High School. As interchangeable parts, they can each play the swing and point guard positions very efficiently. Both are leaders and both have an excellent basketball IQ. Look for these two to lead Cabot to a successful season next year.
Carley Sexton Carley Sexton 5'6" | CG Greenwood | 2024 State AR -Arkansas Fastdogs, 5'6" SG-I've written about Carley before and have run out of adjectives to describe her play. She's complete. A leader, a scorer, a rebounder, and plays solid defense. Carley will be a junior at defending 4A State Champion Greenwood High School. Her biggest strength is her maturity on the court. Not too high, not too low, just more of a "blue-collar" solid performance each game. She'll be one of the top juniors in the state this coming season.
Virginia Gonzalez-Arkansas Net Rippers, 5'5" PG-Virginia is an excellent point guard. I think she's a "sleeper" among top point guards in the state next school year. She does not turn it over. She's very smart and likes to drive into the lane. Virginia is one of those players that can get a shot-off in traffic. Her body control allows her to score or get the foul, and she's an excellent free-throw shooter. Virginia will be a junior at Green Forest High School and undoubtedly a leader on the court.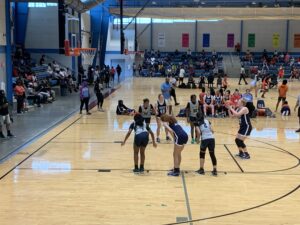 AbbiGrace Cunningham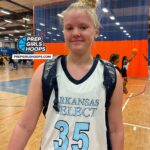 AbbiGrace Cunningham 6'1" | C Atkins | 2024 State AR -Arkansas Select 2024, 6'1" PF-I've written about Abbi as well. Her strengths include her basketball IQ and her size. Abbi can shoot the three which means as a big, she can face the basket and create a miss-match for her opponent. She can also bang inside against other bigs with success. As a junior, she'll lead her Atkins High School team to a deep run this coming season.
Next up, I'll have the list of "young guns". The "Best of Best" of graduating classes of 2025 and beyond to wrap up this first half Grassroots season.
Bobby Brown