Emma Risch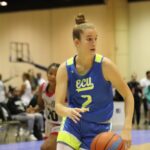 Emma Risch 6'2" | PG Palm Bay | 2023 State #23 Nation FL (ECU Family 2023) knocked down 9 threes and put on a shooting clinic in the process. In a game full of lead changes and runs, Risch was the coolest and calmest on the court.  Risch was making shots that were unbelievable and all in crucial moments in the game.    It's beyond amazing how no moment is too big for this big time prospect.
Alonya Waldon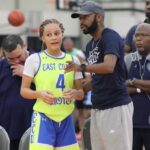 Alonya Waldon 5'5" | CG Palm Bay Magnet | 2023 State FL G (ECU 2023) was flat out balling on Day 3 of the tournament.    Her drives to the goal were deceptive, powerful, and productive.  At times she maneuvered through mazes of players on the court to get buckets.  She also did a good job of handling the ball and running the offense.   Waldon knocked down several timely long balls and she had some very good finishes at the rim.
Aniyah Fisher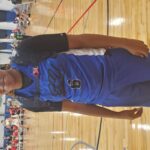 Aniyah Fisher 5'9" | SF St. Augustine HS | 2024 State FL SF (ECU Clarke 2024).   Outside jumpers, drives to the goal, power moves inside, offensive rebounds and putbacks were just part of  Fisher's skillset on display.    Fisher played  the final two days of Run 4 the Roses tournament with a "heavy heart."   She played very well in Run 4 the Roses and showed  that she is one of the most versatile players in the 2024 class.   Her ability to track and secure loose balls in a crowd is very special as well.   She outworks guards on the outside and does the same against forwards on the inside.
Ella Stakem Ella Stakem 5'7" | SG Bolles HS | 2024 State FL (ECU Clarke 2024) has shown her skillset at Run 4 the Roses and has been letting that 3-ball fly.   Stakem has shown a lot of versatility to her game and her ability to drive and evade opponents with drives and baseline floaters has been impressive. Stakem has also done well in the transition game and has shown that she can lead the break and also fill the lanes.  She has made some nice passes on fast breaks too.   Stakem was  in double digits in threes made.   She has shown versatility on defense playing at the top of the defense and also some down on the baseline.
Yakiya Milton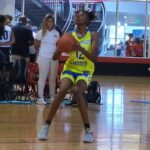 Yakiya Milton 6'4" | PF University Christian | 2024 FL (ECU Family 2024).  Milton showed her versatility throughout the tournament.   She scored on the inside, she filled the lanes and scored in transition.  At 6'4″ Milton was impressive with her ability to lead the break after a rebound.   Defense is Milton's domain.  She played well on the wing and also in the paint.  She blocked her share of shots and also changed a few shots as well.
Alana Seward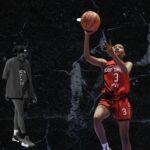 Alana Seward 5'6" | CG Eustis | 2024 State FL (J Sizzle 2024).  Speed is one of the things not taught on the court and Seward has plenty of it.   She has a special ability to break down a defense with her quickness and first step.  She can also shoot the ball from all areas of the court.  On opening night of the tournament, Seward looked good on a new roster and on the court.   She had the ability to create for herself and also create for her  teammates.