This time last year Jazmine Jackson was a First Coast player that many outside of Jacksonville didn't know much about.    By the time the Summer Live period was over,  her stock had risen and she was getting major publicity and exposure.  Shortly afterward, the athletic, smooth, silky baller committed to playing college ball.    These guards below look to have a similar outcome.   Each of these players is looking to raise her stock at Run 4 the Roses and the other college live events this summer.
Asiana Britt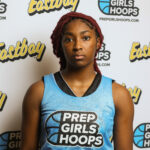 Asiana Britt 5'7" | CG DME Academy | 2023 State FL 2023 CG (DME 2023).  Britt (pictured above)  is looking to continue her upward movement in basketball's landscape.    She can do it all on the court:   shoot from all levels on the court,  rebound the ball like a power forward,  and get to the goal.    Britt knows how to fill the stat sheet.  She is one of the best  I've seen in high school ball at drawing fouls and getting to the line.   Britt is a tough and very aggressive player, and she is a competitor who won't back down from a challenge.    She has all of the physical tools,  but her intangibles separate her from a lot of players in the 2023 class.  She can play the 1 or the 2 on the offensive end and she is strong enough to guard multiple positions on the defensive side of the court.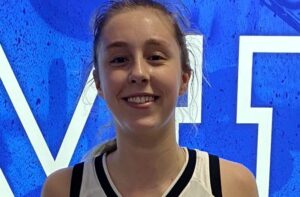 Sophia Rueppell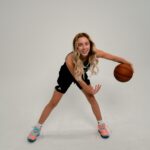 Sophia Rueppell 5'9" | PG Bishop Kenny | 2023 State FL (ECU Family 2023)  is probably one of the hottest recruits on this list and she can flat-out ball.   Last live period she was the lone Sophomore on a 2022 team and even then she was steady and impressive.  She shot the cover off the ball and opened some eyes last year.  In Spring AAU, she gained a lot of momentum and is presently one of the top guard recruits in the State.  As good as she has been,  she can up her stock even more during the live period in Louisville.  Rueppell can handle the ball,  she can shoot the ball from anywhere on the court, especially the three pointer.  Rueppell is also that tough-nosed leader that you want on the court.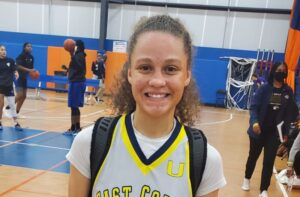 Alonya Waldon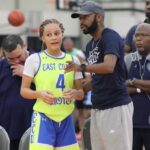 Alonya Waldon 5'5" | CG Palm Bay Magnet | 2023 State FL (ECU Family 2023)  had a very good Spring period and has caught the attention of some colleges,  including garnering an offer in the Spring.  Waldon turned heads in Charlotte and has played some good ball since.  A strong performance at Run 4 the Roses will move the needle even more.  Waldon plays downhill and she gets after it on the court.  She is aggressive in your face defender and she likes getting to the rim on offense.   She can also shoot the three and even the mid-range jumper.    With her ability to get downhill,  Waldon does a good job of drawing double teams on the court and creating shots for her teammates.    Waldon is a versatile guard who can play at point guard or shooting guard position.
Kaylah Turner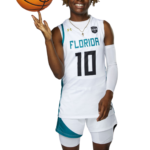 Kaylah Turner 5'5" | PG Oakleaf | 2023 State FL PG   (FGB CW 17U) Turner is one of the most electrifying players on the First Coast.    Offensively,  Turner scored 14.2 points per game this past season and scored from every level on the court.   She is a very good on-the-ball defender and can single-handedly disrupt an offense.   This past season Turner averaged 5 steals per game.    Turner is also a very good rebounding guard.  She averaged nearly 6 rebounds per game from the guard position.    Turner's stock is already high and look for it to rise even further when more college coaches see that defensive tenacity,  that open-court track speed,  that fierce competitiveness, and that killer midrange game.
Kamiya Jones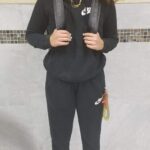 Kamiya Jones 5'6" | SG Oakleaf | 2023 State FL (FGB).   Jones is looking to raise her stock in the college live period and she has really been putting in the work this Summer to position herself for this moment.  She had an impressive summer league performance and also performed well at some of the team camps around the State.   Jones can really put up and knock down the three and she can take over a game when she is on.    Jones has also shown increased improvement in other aspects of her game, including handles and defensive pressure.   I'm looking forward to seeing  Jones perform on the big stage during this college live period.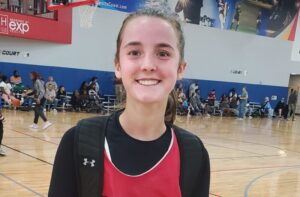 Ella Ortman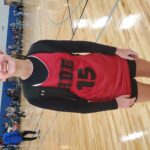 Ella Ortman 5'7" | CG Providence Of Jacksonville | 2023 State FL   2023 G (Providence ).   Ortman made a large gain from last to this year in the Prep Girl Hoops rankings and that was due to the hard work she put in. Ortman can shoot the ball and she can score in a variety of ways:  from behind the arc,  from the drive to the goal, and from behind the free-throw line. Ortman can handle the ball and can make plays for teammates.  She is looking to raise her stock during Run 4 The Roses and during the college live period.
Paetyn Miller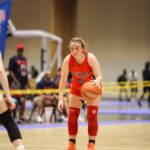 Paetyn Miller 5'6" | CG Ridgeview | 2023 State FL (MHD Elite) has put in the work this summer and is primed to have a good college live period.   No one works harder than Miller and she has been seen all over the First Coast working on her game.    She played well in the summer leagues with Ridgeview and attended some nice camps over the summer break as well.   Miller can shoot the three and that jump shot is an attention-getter,  but her work on handles, defense,   and distributing the ball did not go unnoticed in the summer league play.  The college live period is a special time for Miller.  The first stop is Louisville and she's looking to get on the radar of college coaches.
There are a lot of guards in the 2023 class looking to gain more exposure during The Run 4 the Roses and the college-live period.  These are just a few players in a huge talent pool.
Keith Hunter is a  scout for  Prep Girls Hoops Florida.   Hunter covers primarily North Florida,  but that coverage extends state-wide during showcases and tournament play.    Hunter will be in Louisville and Orlando during the college live period.  If you have any information on players or teams,  please email  Hunter at Hunterkeithl@gmail.com or DM him through Twitter/Instagram at @hunterkeithl.