The latest 2023 Palmetto State Rankings has been UPDATED once again. Who are the latest to make this edition of Stock-Risers from the 2023 Class? #RecruitThePalmettoState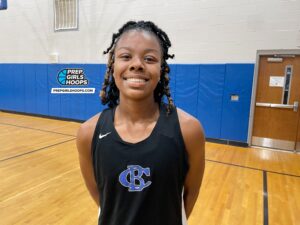 #10 – Alaina Nettles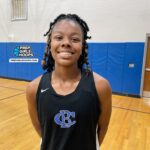 Alaina Nettles 5'8" | CG Cane Bay | 2023 State SC – Cane Bay HS (Summerville)
Nettles recently picked up an offer from hometown program Charleston Southern University. Alaina really looks to get to the basket and play the game in attack mode at times. Nettles will run with TMP this NCAA Live Period next week in Louisville, KY. She can drop the floater in the lane at ease at times. Alaina always remains active and around the ball while playing on the floor.
#21 – Tateyoina Harris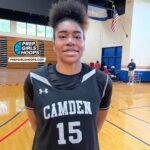 Tateyoina Harris 5'11" | PF Camden | 2023 State SC – Camden HS (pictured on front)
Harris had a good spring with the Lady Bulldogs. Tateyoina really looks to go to work inside the paint. She rebounds the ball at a high clip and does a good job of doing just that. Tateyoina will rebound the ball out of her area and keep the ball high every time. Harris has the pleasure to play in the paint with 2024 Joyce Edwards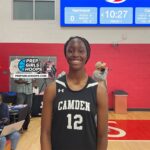 Joyce Edwards 6'3" | PF Camden | 2024 State SC . She brings a bit of a blue-collar mentality to the hardwood and earns everything she deserves. Tateyoina will be running with Palmetto 76ers Select 2023 this NCAA Live Period in July.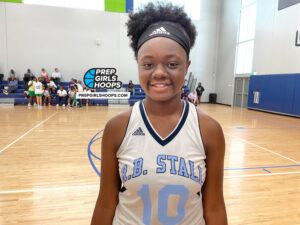 #26 – Jadein Haynes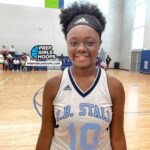 Jadein Haynes 5'10" | SF Stall | 2023 State SC – Stall HS (North Charleston) 
Haynes sure didn't disappoint us here at Prep Girls Hoops with her play this past week at the Charleston Southern Team Camp along with the SCBCA Summer Showcase. Jadein seems to be figuring out her play on the hardwood. She brings good versatility with her ability to score the ball from all 3 levels on the floor. Haynes will be running with Lowcountry Premier this July NCAA Live Period.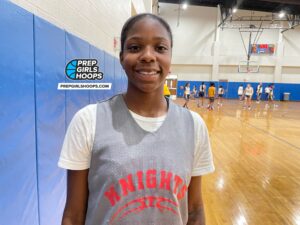 #27 – Yasmine Cook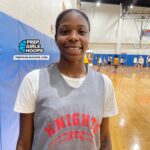 Yasmine Cook 5'9" | SF Stratford | 2023 State SC – Stratford HS (Goose Creek) 
Cook has been on fire with her play the last 2 camps we were able to see her play in at Charleston Southern Team Camp and SCBCA Summer Showcase. Yasmine will look to carry that over to the Lowcountry Premier squad on the Grassroots Circuit. She has been able to do a bit of everything on the floor – almost like a Swiss army knife. Yasmine will make shots, rebound, defend, grab 50/50 balls on the floor, take and absorb contact, fill the lane in transition and just help your team WIN games. She will join Haynes on the Lowcountry Premier squad.
It's time to #RecruitThePalmettoState