Some prospects have performed  so well that they've got instant name recognition.   These 2024 prospects  below performed well in the Spring period and are clearly  on their way to seeing their stock increase.  A good showing at Run 4 the Roses will do just that.
Clare Coyle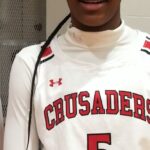 Clare Coyle 6'1" | PF Bishop Kenny HS | 2024 State FL (ECU Family 2023). Coyle was very impressive  during the Spring period and the soon to be Junior  turned some heads and even garnered  a lot of  college  interest.  Coyle plays the game in full throttle.  She shoots in well in the paint and does occasionally  step out and shoot  the long range jumpers.  She has nice footwork in the paint  and has a myriad  of moves she uses.   She uses that same tenacity on the boards and she can flat out go get the ball.
Sydney Roundtree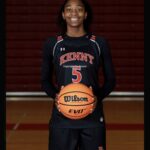 Sydney Roundtree 6'0" | PF Bishop Kenny | 2024 State FL (ECU Family 2024)  Roundtree is very athletic and can really run the court and finish on either side of the basket.   Roundtree  has garnered  some offers and she is looking to leave Louisville with more.  Defensively, she has the ability  to defend multiple positions on the inside and out in space.
Aniyah Fisher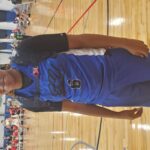 Aniyah Fisher 5'9" | SF St. Augustine HS | 2024 State FL   (ECU 2024 Clarke).  Fisher  (pictured above) is one to watch  on this list.   After The Run 4 the Roses,   Fisher could have her name on a lot of note cards and  prospect  lists.  Fisher can do it all on the offensive end: drive it, float it and shoot it from anywhere on the court.  She has good handles and could play 4 positions on offense and defense.  Defensively  Fisher plays center field  on the press like none other.   She can pick your pocket  or intercept the pass in the passing lanes.  Fisher is one of the rising stars in the 2024 class.
Nia Blocton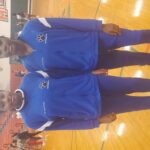 Nia Blocton 6'0" | SF Ridgeview | 2024 State FL   (MHD Elite 2023).  Blocton  is another 2024 playing in the 2023 division.    She is a dominant  force in the middle.  She can score  in the paint and is  tenacious  on the court.  If you beat her on a play, you have earned it.  Blocton  is a great rebounder and always amongst  the state leaders  in that  category.   She recently  received an offer and look for more when college coaches  put their eyes on her at Run 4 the Roses.
Kaitlynn Weaver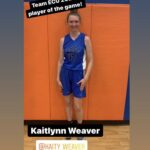 Kaitlynn Weaver 6'0" | PF Tocoi Creek | 2024 State FL (ECU 2024 Clarke) is another name you should get to know.  Weaver is slowly  finding her traction in a new state and on a new team. She  can score inside and also step out and hit the three.  Defensively,  she  is a very  good shot blocker and rebounder.   Weaver is looking to make an impact in Run 4 the Roses.