The 2024 class are now considered upperclassmen and are heading into the tail end of their 16u AAU seasons and the start of their Junior seasons. This update of the rankings brings the class to 105 total ranked players and some big time movement around the rankings. Here's a look at the biggest movers in this update.
Payton Acey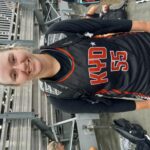 Payton Acey 6'1" | PF Southwestern | 2024 State KY , Southwestern, 54–>11 – One of the biggest risers in the class, Payton honestly just benefited from our scouts getting eyes on her more this winter and spring. She's a fantastic slasher and also excels at rebounding for her size and position. She's one to watch moving forward for sure.
Julia Hunt Julia Hunt 6'1" | C Holy Cross (Covington) | 2024 State KY , Covington Holy Cross, 30–>13 – Julia went from relatively off the radar to a player with multiple D1 offers in the past 6 months. She's a formidable post player who can score the ball comfortably with her back to the basket or facing up. Hunt is definitely a difference maker in the always loaded 9th region.
Jasmine Jordan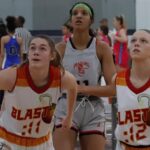 Jasmine Jordan 6'2" | C Boyd County | 2024 State KY , Boyd County 36–>15 – Another post player who has earned her first D1 offer recently, Jasmine is the best post to come through Boyd in the last few years as their roster has typically been dominated by guard play. Jordan is an above average rebounder and thrives as a secondary option on offense but is working towards being a primary option in the future.
Hailee Johnson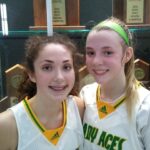 Hailee Johnson 5'9" | CG Owensboro Catholic | 2024 State KY , Owensboro Catholic 41–>16 – Johnson is a high level slashing point guard who is one of the best players in Kentucky at getting to the free throw line and has shown herself to be capable of carrying a team offensively at times. Hailee is also athletic enough to defend multiple positions on the defensive end and has high level upside.
Ellie Cheatam Ellie Cheatam 5'11" | PF Adair County | 2024 State KY , Adair County 85–>19 – Cheatam is a double-double every time she hits the court and has shown the ability to score on the block or facing up. Ellie will need to add more perimeter shooting to her repertoire to reach the next level but she is one of the best rebounders in Kentucky and has shown she can score all over the court.