2024 Stock Risers & Newcomers
Some rising juniors that joined the rankings and a couple that have used the spring and early summer to make a rise.
Newcomers:
Gabrielle Kennerly 5'10″ SG Howard #7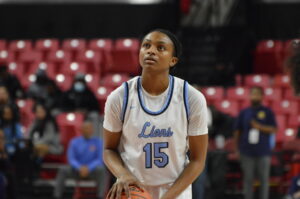 Gabrielle has been profiled by us since middle school and has been a headilner on articles.  The fact that she wasn't included in the previous rankings was an error on our part.  With that being said Gabby drops in the top ten at #7.  The athletic shooting guard can easily switch to the point and wing.  She has the height and skill to be effective in four positions.  She has a good outside shot and was the bright spot in their state championship loss, the only game lost this season.
Alaysia Fernandez 6'2″ Post St. Frances #21
Alaysia comes in at #21, we liked her size and inside presence with TTO.  Her footwork is solid and she finishes right by the basket.  She should be the anchor the middle at SFA this season with a chance to boost her stock more.
Aichatta Soumaoro – 6'2″ – C – Glen Burnie #42
Aichatta has good size and a good body.  She rebounds in her area and as she gets more mobility I think we will see her production increase.  Glen Burnie can make a run at the states this season if everyone does their part and she takes control in the paint.
Nylah Davis 5'5″ CG St. Charles #31
Nylah enters the rankings at #31.  She is deceptively quick getting by defenders and very active on defense.  She uses her hands well to disrupt the ball handler and get steals and deflections.
Aryss Macktoon 5'10″ – SF – St. Timothy #40
Aryss makes plays off of effort running hard on each possession.  She is athletic and can get into her shot off of a full sprint.  She breaks away from the crowd for transition baskets and with toss the floater when contested
Stockrisers
Jaeda Wilson 5'9″ Wing Holy Child #26 to 17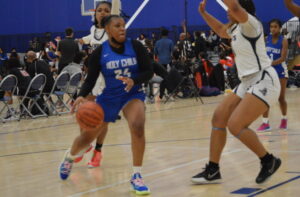 Jaeda was required to do a lot during her high school season, perhaps too much.  With GLP this spring/summer she doesn't need to carry to load and the has freedom to let the game come to her.  Her mid-range game is working great using a nice catch and shoot and pull-up off the dribble.
Ava McKennie 6'1″ McDonogh – #16 to 10
Ava has emposing length at the wing.  McDonogh is wing heavy but walking on the court with Philly Rise she stands out in warmups.  Super athletic and rebounds well and has good timing to block shots.