On Monday, June 27th, the Pentagon's Heritage Court hosted a variety of superb SD girl's basketball players.  The athletes were put through a variety of skills/drills, had their verticals tested, competed in a 3-on-3 setting, and capped it all off with some live 5 on 5.  The 2026 class had 4 participants involved in the combine.  This class will be fun to follow and this was a great event to get a sneak preview into some of the talent that will be at the top of the rankings for this up-and-coming class of prospects. Here are a few standouts that stuck out for me on the day, and I'm sure caught college coach's attention as well.
Jenna Miller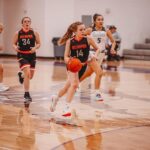 Jenna Miller 5'7" | PG Dell Rapids | 2026 SD – Dell Rapids – 5'6″ G
Jenna is going to be a fun prospect to keep your eye on!  She demonstrated a really high IQ for a young basketball player and she gets it done on both ends.  In the skills sessions early on in the combine she showed off great handles and pushed herself through the drills.  She has a really nice jump shot and looks to be a kid who will be a top 3-point shooter in her class.  Super competitive, quick-twitch athleticism, and an impressive array of scoring abilities headline this talented young lady.  She can hit the three, score off the dribble, and has a quick trigger to get her shot off.  Remember Jenna as we start putting out Rankings for our Class of 2026.
Emery Larson – Chester – 5'4″ G
Emery is a firecracker who looks to be a ton of fun to watch over the next 4 years.  She is absolutely electric with and without the ball in her hands, moving well off the ball to get to spots to score in the offense, and possesses the ability to create off the dribble whether it be a shot for her or one of her teammates.  At just 5'4″ she gets her shot off fast, plays with impressive toughness, and appears as though she feels totally comfortable in the spotlight.  Her range is impressive and she looks to be a deep-range sniper in the making. I see game-winning shots, clutch post-season performances, and a lot of all-around solid basketball for this young lady as we get a front-row seat to her development over her high school years.  Emery is emerging as an early contender for my top 10 in this young, developing class.
Harley Koth – Beresford – 5'9″ F
Harley was aggressive all day long at the combine.  She was able to get to the rim with a great mindset to score in the paint.  I witnessed her attack from the corner along the baseline a few times and I was impressed at her ability to find seams to get to the rim and also understand when to get on two feet, be strong with the basketball, and dish to an open teammate.  As her outside shooting continues to develop and she gains variety in her finishing moves, Harley projects to be a really solid prospect in her class.
Amari Ward – Brookings – 5'5″ G
Amari is another prospect to keep your eye on as we start rolling out more information and scouting takeaways on the Class of 2026.  I didn't get to see a ton of this young lady at the combine but will be looking forward to getting a further in-depth analysis of her game.  Competing in a high-level scouting event like this was a confident leap by all of these young ladies and I for one am excited to see what this class can do and give a further evaluation of each of these prospects!
Keep an eye on this class as we start learning more about prospects around the state and begin working on getting rankings up for the Class of 2026!