On Monday, June 27th, the Pentagon's Heritage Court hosted a variety of superb SD girl's basketball players.  The athletes were put through a variety of skills/drills, had their verticals tested, competed in a 3-on-3 setting, and capped it all off with some live 5 on 5.  There were many standouts in the 2025 class and this class struck me with their natural athleticism, shooting consistency, and extremely high IQ for a young crew.  Here are a few standouts that stuck out for me on the day, and I'm sure caught college coach's attention as well.
Top Standout
Brooke Jensen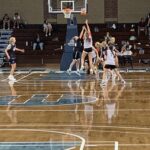 Brooke Jensen 6'0" | SF Vermillion | 2025 State SD – Vermillion – 6'0″ F
Brooke's game is smooth and polished for a to-be sophomore basketball player.  She stood out early and often at the combine and did a lot of everything well.  In the early drill work, she was impressive with solid handles and fundamentals with a 6'0″ frame.  In the 3-on-3 setting, she did a great job guarding multiple talented athletes and moved really well on defense to beat the offense to their spots.  She knocked down shots, scored off the bounce, and made great decisions all game long.  I don't remember seeing a turnover from her once.  In the 5 on 5, she knocked down shot after shot.  I witnessed more makes from her than any other athlete on the day.  Brooke once again showed why she is ranked number 1 in the class of 2025.
Top Shooter
Isabella Anderson Isabella Anderson 5'6" Milbank | 2025 SD – Milbank – 5' 7″ G
Isabella is an all-around fantastic basketball player.  I had not gotten a chance to see her in person but after 1 day, she's the real deal.  She hit a ton of shots and has a very balanced plan to score.  She can knock down threes, create her shot off the dribble, and get to the rack and finish.  Length, an aggressive mentality, and an all-out desire to compete make her a great defender as well and she is a benefit to her team on both ends.  She was one of the most competitive players of the day and every team she played on seemed to be on the winning end of a lot of possessions.
Most Aggressive
Logan Smidt Logan Smidt 5'7" | PG Brookings | 2025 State SD – Brookings – 5'7″ G
Logan showed out in yet another basketball event this summer with the main takeaway of her aggressive, always on the attack mindset.  She is a physical guard that can beat you with strength or speed and is a true matchup nightmare for other defenders.  Defensively she gets in the gaps and isn't afraid to sacrifice her body to keep athletes out of the paint or draw an offensive foul.  Time and time again she got stops in a 1-on-1 setting and she is a superb competitor.  Every time she caught the ball on the perimeter you got the sense she would find a gap to get to the rim and she finishes well once she gets there.
Highest Riser
Reagan Rus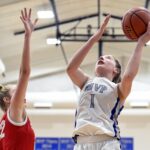 Reagan Rus 5'9" | SG Mt. Vernon | 2025 State SD – Mount Vernon/Plankinton – 5'9″ G
Reagan Rus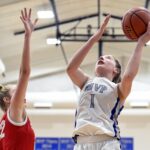 Reagan Rus 5'9" | SG Mt. Vernon | 2025 State SD was already a highly ranked player and now sits at number 2 overall in the class of 2025.  She was already in my top 10 but has now entered my list as a number 1 contender in this really talented class of athletes.  She's a top-notch defender in all formats as she can guard multiple spots, rotates well one and two passes away, and is a phenomenal rebounding guard.  She has a great build for the game at 5'9″ and long and is an asset on both ends.  On offense, she was one of the best athletes present at getting to the paint and finishing with a variety of moves.  She has a high IQ and knows how to use ball fakes and footwork to score in traffic.  If Reagan can develop consistency shooting the three I think she could push to be the number 1 prospect in her class.  Stock is solidifying for this kid in the top 3 of her class.
Best of the Rest
Ava Craven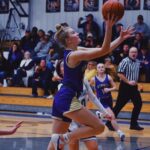 Ava Craven 6'0" | SF Winner | 2025 State SD – Winner – 6'0″ F
Ava is a prospect coming on strong in this class.  She is a really consistent 3-point shooter and can get to the rack as well.  She has great length and movement and is effective on both ends.  On a team that lost a D1 talent in Bella Swedlund, Ava is going to need to be a big piece of her Winner squad finding success.
Alexa Goertz Alexa Goertz 5'9" | SG James Valley Christian | 2025 State SD – James Valley Christian – 5'9″ F
Alexa was another athlete that reaffirmed scouting this event.  I hadn't seen her in person but was left very impressed.  She plays hard and has a really hard motor, never gives up on a play, and brings nice energy to the floor.  She relocates really effectively without the ball and has a smooth 3-point shot.
Madison Geiver Madison Geiver 6'1" | C Brandon Valley | 2025 State SD – Brandon Valley – 6'1″ C
Madison is a great post prospect in this class and plays with great physicality and scores well in the paint.  She rebounds well on both ends, giving her team extra chances to score, and gets a nice amount of putbacks for her squad by reading the ball off the rim well. Shot alteration on defense is another positive contribution to her team and she has a solid back-to-the-basket game.
Ava Hanson Ava Hanson 5'10" | SG Aberdeen Roncalli | 2025 State SD – Aberdeen Roncalli – 5'11″ G
Ava is a player that I see rising up the leaderboard as we get into the 2022-23 season.  She will need to play an increased role in her squad's offense and will look to be one of their top options.  She played a really solid game for 4 hours during the combine, showing off solid handles and footwork during drills, moving well in space and scoring in the 3-on-3, and demonstrating a high basketball IQ by doing a little bit of everything for her team during the live scrimmages.  She has a solid shot, great ball security, and great speed paired with a 5'11″ frame.
Krista Langager Krista Langager 6'0" | C Sisseton | 2025 State SD – Sisseton – 6'0″ C
Krista has been climbing up my personal leaderboard ever since I stumbled across some Hudl film on her.  She is a physical six-footer with great athleticism and footwork and high energy.  She operated well in the paint during the combine and showed off her ability to score on weaker defenders, rebound the basketball, and be a disruptor on the defensive end.  I wanted to see her specifically in the 3-on-3 setting and see how she can defend 1 on 1 and she proved it.  Stock is up on Krista!