There  was so much talent under one roof.  The level of competition was mind boggling.   These are some of the top 2025 players who stood out on the big stage at Run 4 the Roses in Louisville, Kentucky.
Jaida Civil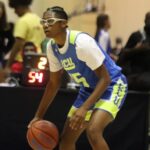 Jaida Civil 5'11" | SF Vero Beach | 2025 State FL 2025 (ECU Family 2023).  If Civil is in the building she is likely to be the leading story.  Run 4 the Roses was no exception.  In one instance Civil went in for a layup with her right arm extended, then brought  her arm back to her body,  and then extends her arm again for the layup.  The story could end right there and it would still be an  amazing one.    Civil amazed everyone with her athleticism, speed, and ability to play basketball  at a high level against players two grades higher.   Civil shot it  well  in the midrange area and also showed great shooting range from behind the arc.  Defensively,  she kept opponents in front of her.  She has the ability to lock down forwards and guards. And that's the way the story  has gone this AAU season.   Week in and week out  Civil has solidified  herself  as one of the top  2025s in the State.    The ceiling is high for Civil and there are so many chapters that  have yet to be written.
Abby Knauff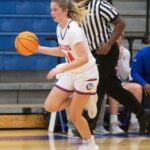 Abby Knauff 5'9" | SG Bolles | 2025 State FL SG 2025 (ECU Family 2024). Knauff is one of the best players in the 2025 class.   She can shoot from anywhere  on the floor and can score points in a flurry.   Knauff is athletic and has a very high basketball  IQ.   She is usually a few steps ahead of the competition, literally and figuratively.   She can take it to the rim and finish and is very good and drawing fouls and getting to the freethrow line.   Knauff is solid on the defensive  end and can guard multiple positions.  For a guard  Knauff is a very good rebounder and she excels on the offensive glass and gets a lot of put backs.    Knauff  is excellent in transition as well.  She can handle the ball and also fill the lanes.  It's not uncommon  to see Knauff pull up for a jumper on a fast break.   Knauff  had all of these attributes  on display at Run 4 the Roses.
Trinidy Harris Trinidy Harris 5'4" | PG Wildwood | 2025 State FL 2025 PG (Tre Mann Elite 15U).   If you want a point guard who can handle the rock and control the game, look no further than Harris.   She is dynamic with the ball in her hands and has the ability  to  go left or right.    She is quick  fast, and fluid on the court.   Harris  really attacks the rim and knows how to finish.  She makes her share of unbelievable  shots after contact and gets to the freethrow  line quiet often.  Defensively,   Harris is  feisty  and doesn't back down from competition.  She has the quickness  to move laterally  and  the speed to take on any point guard.  She plays with  passion and a little edge to her game.  Harris is one of the best pure point guards in the 2025 class and she showcased her skillset at Run 4 the Roses.
McKenzie Neal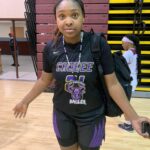 McKenzie Neal 6'2" | C Okeechobee HS | 2025 State FL   2025  PF, 6'2″ (ECU Family 2023).   Playing up two age groups, Neal still played her game.  She is a very smart player who just has a great understanding of how to get position down low and receive passes already in a scoring position.  Neal showed the great footwork  in the middle and was able to score in the paint.   Very  few power forwards can match Neal in size and power.  Neal does a good job of running the floor and does get baskets  in transition as a result.