We're in a big month for grassroots basketball and in a lot of cases, young ladies are competing with a lot on the line. In a state like Michigan that's full of top notch girls basketball talent at every level, there are certainly players that are having some powerful performances. We're going to look at 3 players that had noteworthy games this week that should draw the attention of some coaches at the next level.
Shay Manchester Shay Manchester SG Birmingham Seaholm | 2023 State MI (2023, SG, PR1DE 2023, Birmingham Seaholm)
Manchester is a highly regarded player in the state and she showed a big reason why this weekend. She hit 7 triples in a win over Orlando Basketball Club. The defense adjusted and adjusted, and adjusted again, but there was no slowing her hot hand. Manchester finished the game with 25 points. The best part of the shooting performance was the efficiency with which she shot the ball. Manchester scorched the nets hitting 7-8 from behind the arc. From the looks of her game right now, we can expect to hear a lot from her this coming high school season.
Averie Markel (2023, SF, 5Star 17u, Edwardsburg)
Markel has played some really good basketball lately and she accentuated her strengths this weekend at Run 4 The Roses. She was terrific from behind the arc, hitting 3 of them on her way to a 12 point game. Markel's performance was critical in securing her team's 50-42 win against a game ALL IN 17u Gold team. With a weekend like this, there is no doubt that she has put herself on recruiting map here in Michigan.
Abby Pasinos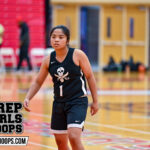 Abby Pasinos SG Madison Heights Bishop Foley | 2023 State MI (2023, SG, Michigan Goonies 2023, Bishop Foley)
I'll keep putting her name in articles, because quite simply, Pasinos has had one of the best grassroots seasons of any player in the state of Michigan. She got it done again this weekend at Run 4 The Roses. She's shown in the gym range all spring and summer, and that was the case again. Pasinos had multiple 20 point performances. That shouldn't surprise anyone who has watched the Prep Girls Hoops Circuit this spring. Pasinos hit as many as 6 triples in a game this weekend. Concordia University – Ann Arbor has a special player coming in due time.