The featured image is of Maranda Mason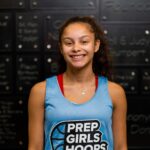 Maranda Mason 5'5" | PG Jeffersonville | 2023 State IN (2023) of Jeffersonville High School and the Louisville Legends 17U.
Last weekend the annual Battle in the Boro tournament took place in Louisville, Kentucky. Originally started in the Murfreesboro/Nashville, Tennessee, area, the event moved to Louisville a few years ago but is set to return to the Volunteer State in 2023. There were 50 courts of action with teams primarily from the Midwest and the South involved. This is the first of three articles highlighting Indiana ladies who stood out when I was able to see their teams at this event.
Dahja Gaines, 2023, 5-6 G, Clarksville H.S., Louisville Lady Trojans 17U
– I got wind of Dahja throughout the Winter season, so Sunday was my first opportunity to see her in action. She has a solid to strong frame, some length, and she's a well-balanced athlete. She plays with a nice motor, doesn't mind some physicality, and she can do a little of everything for her team. She will handle the ball from time to time, she's solid attacking the basket, and she's an effortful defender. If she can be a little more consistent as a perimeter shooter, I think she has really nice small college value.
Maranda Mason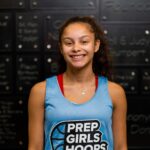 Maranda Mason 5'5" | PG Jeffersonville | 2023 State IN , 2023, 5-5 PG, Jeffersonville H.S., Louisville Legends 17U
– Maranda has been a regular the last couple of years at our showcases, and she has come a long way over that time. She is still a smaller guard, but she looks noticeably stronger, a bit more explosive, and she's impacting the game a lot more. In prior viewings, she was more of a wing shooter, but now you can see an improved handle, more creativity, and a better overall feel for the game. I really like her potential for the next level, and her ability to shoot, coupled with her quickness, definitely help her case.
Bradie Chambers Bradie Chambers 5'8" | SG Linton-Stockton | 2024 State IN , 2024, 5-8 G, Linton-Stockton H.S., Indy Magic BlueStar 16U
– Bradie grew up watching the great 2021 class at Linton-Stockton and all of their success, plus she even saw a handful of minutes in the 2021 State Championship. She is a strong, physical combo guard who has really added to her game over the past year. She was initially more of a slashing scorer, but she is handling it a lot more, creating offense in a variety of ways. She can make shots outside, but her strength and ability to get downhill are tough to stop. She is also a tough-nosed, versatile defender.
Jersey Paul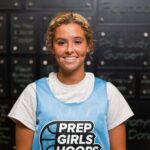 Jersey Paul 5'6" | SG Fort Wayne Carroll | 2025 State IN , 2025, 5-6 G, Carroll H.S. (Fort Wayne), Always 100-Paul 16U
– Over the years, Jersey has found a niche as a shooter, and when given any space and rhythm, she's almost automatic now. In fact, the biggest thing I saw out of her last week was an improved shot selection and more consistency. She also looks a little stronger and more balanced. Her handle has also improved, so if over the next couple of years she can prove to coaches she can occasionally handle point guard duties, I think that will benefit her recruiting. But she was very accurate from outside when I saw her.
Sara Rosko Sara Rosko 5'3" | PG Roncalli | 2025 State IN , 2025, 5-3 PG, Roncalli H.S., Indy Magic-Andrus 15U
– Sara had a nice imprint on the Indianapolis Homeschool Wildcats, who finished 3rd at Nationals during the 2021-2022 season. She has, however, reportedly enrolled at Roncalli for her Sophomore campaign. Over the weekend, she looked taller, stronger, and more explosive. She has always possessed a great instinct for the game and the point guard position, she rarely turns it over, and she is an efficient playmaker who can knock down open jumpers. I also really enjoy her activity defensively, on and off the ball.
Brooklyn Sturgeon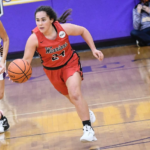 Brooklyn Sturgeon 5'4" | PG North Knox | 2025 IN , 2025, 5-3 PG, North Knox H.S., Pocket City Basketball 15U
– Brooklyn is one of those kids you root for, because she outplays her "measurables", she has an outstanding motor and attitude, and she is productive at this level, always seeming to help her team win. She has a strong frame and takes contact well, she's a nice downhill attacker, but she also buries shots from the perimeter (21-47, 45% from '3' in 2021-2022). If she can prove to be able to handle speed for the next level, both offensively and defensively, I think she could be a tremendous small college prospect.
Paiton Mitchell, 2026, 5-5 PG, Castle H.S., Pocket City Basketball 14U
– It seems like Castle always has a few of these skillful, high IQ guards hanging around their program, and Paiton looks to be the next one in that line. She is a wiry-strong, traditional point guard with good length. She has nice quickness, she plays with her head up scanning the floor, and she seems to make the right pass nearly every time. Additionally, she has touch outside, which makes her dangerous to help off of, but she can also get by defenders and create for teammates. She, too, is a feisty defender herself.