The second day of Recruit Wisconsin was much like the first. Talented kids took the floor in front of college coaches and excelled. Today, I'll recap the final day of the event.
Olivia Conway Olivia Conway 5'6" | PG Catholic Memorial | 2024 State WI
The Catholic Memorial guard moves fluidly and confidently. Everything she does looks like it was thought of five seconds before she makes every move. I love how she operates with the ball in her hands. Conway exudes confidence and has the tools to run an offense, shoot, and attack the basket. As she approaches her junior season as Crusader, with a talented 2022 class departing, Conway could have a big season.
Addy Zacher
The Muskego lead guard does an excellent job controlling the tempo of games and balancing the distribution and aggression of her role. She's a strong guard who isn't shy of attacking taller kids in the post and drawing contact. Zacher also possesses one of the best jumpers in the Classic Eight and showed it off in Appleton. Although her team wasn't competitive in the conference last year, every team the Warriors come up against needs a plan to slow Zacher down, or she can hurt you.
Lily Truchon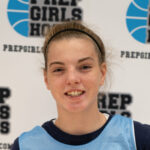 Lily Truchon 5'11" | PG South Shore | 2023 State WI
Since the high school season started, Truchon has always been a bit of a mystery. She plays high school ball for South Shore, which isn't near any dot on the map of Wisconsin. Since she's gotten to play in front of college coaches, they've gotten a full scope of her game. Truchon is an athletic 5-foot-11 wing with some guard skills. She can move her feet and use her length to defend. The South Shore Cardinal also uses that length to shoot and finish over defenders on the other end. 
Emily Montgomery Emily Montgomery 5'9" | SG South Shore | 2024 State WI
Truchon's South Shore teammate was no slouch herself this weekend. She showed her athleticism on the wing and knocked down multiple jumpers. Defensively she'll end up being good at a small school because she's used to dealing with the other team's best wings on that end of the floor. She's not selfish either. Montgomery consistently makes the extra pass, passing up good shots for great shots.
Abby Hollis Abby Hollis 5'7" | CG Albany | 2025 State WI
I don't know any 25s in Division 5 who can change a game like Hollis can with her jumper. It felt like every time she took a jumper. It didn't hit the rim. She has a lot of confidence in her shot, and it's easy to understand why that's the case. She nearly led a comeback for Foundation Athletics 16u team at the Legacy Region Finals in May and continued making shots all summer. Don't be surprised if she plays extremely well for Albany this coming season.