Sophi Aldridge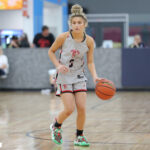 Sophi Aldridge 5'5" | CG Cabell Midland | 2024 State WV -Cabell Midland-CG-5'7
Sophi Aldrige has cemented herself as one of the top guards in the state of WV. She has multiple offers from colleges in her bag already. I see Power 5 potential in Sophi no doubt about it. Aldridge is a lethal long-range shooter with a marksman mentality, she knows she has the green light and when her shots go up you expect them to go in. Aldridge moves well without the ball allowing her to come off screens and hit open shots. Still, she has high-level playmaking ability using her exceptional ball-handling skills to break down the defender creating her own scoring opportunities. Sophi plays hard nosed defense and she likes to apply tight pressure to wreak havoc and cause turnovers for her team. Her defensive style can be very useful in full court pressing situations. Sophi Aldridge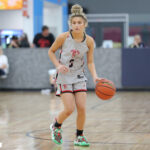 Sophi Aldridge 5'5" | CG Cabell Midland | 2024 State WV has a bright future a head of her she's a player who truly loves the game of basketball and will be a great addition to a college program. 
Sofia Wassick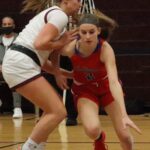 Sofia Wassick 5'7" | PG Morgantown | 2024 State WV -Morgantown-PG-5'7
Sofia Wassick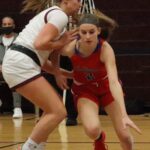 Sofia Wassick 5'7" | PG Morgantown | 2024 State WV has tremendous upside she's a big time prospect with big time abilities. When Sofia is on the court no one competes harder than she does. Wassick is an elite scorer who can completely takeover a game on offense, she is a deadly perimeter shooter who shoots consistently from mid and long range. Yes, she can shoot it but her slashing ability is was sets her above the rest in her class. Wassick is really quick off the dribble she has a variety crossover moves that she uses to get past defenders to penetrate the lane she's so crafty at the rim she finds clever ways to get the layup off she's a right handed player but she can use her left just as well. Sofia has excellent court vision she throws dime passes and she's always looking for an open teammate, she thrives off of getting other players involved.  Wassick works hard on the defensive end as well she has great ball anticipation and comes up with a lot of steals from playing the passing lanes. She will have a big season this year for Morgantown and keep blossoming into a D1 prospect.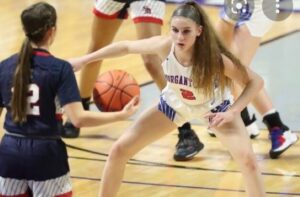 Nisaiah Pannell Nisaiah Pannell 5'6" | PG St. Albans | 2024 State WV -St. Albans-PG
Nisaiah Pannell Nisaiah Pannell 5'6" | PG St. Albans | 2024 State WV is a high motor player that plays with a competitive edge you do not see very often in a young prospect. She is an absolute lock down defender with the ability to completely take away the opposing teams best scorer. Pannell is probably the best perimeter on ball defender in the class, she comes up with a lot of her steals per game mainly by picking pockets. She is speedy, athletic, and very shifty she brings the energy and intensity every time she steps on the court. Nisaiah is a great distributor she has excellent court vision and she keeps her head up in transition looking for the assist. She creates havoc at both ends of the floor, she can finish strong at the rim, and she utilizes her speed and athleticism well to disrupt the oppositions offense. Pannell will be a key component for St. Albans success this upcoming season.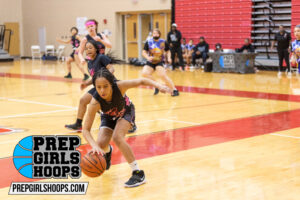 Kaydance Bradley-Martinsburg-C-6'5
Kaydance Bradley is not your average 6'5 center. She has the ability to stretch the floor with her impressive long range shooting. She is a knocked down shooter from the three point line there is no other player in the state of WV with this type of shooting ability at this height. Bradley is a walking double-double she can go for 10+ point and 10+ on any given night. She is very good at establishing low post position on offense, her long frame makers her an easy target for the entry pass. She has impeccable footwork and a variety of post moves including a drop step that makes her almost impossible to from scoring in the paint. Kaydance is a elite rebounder and she is good at keeping the ball high above her head to avoid turnovers. Her shot blocking is what you expect coming from a 6'5 center she is a human eraser as a interior defender. Bradley has though the roof potential she is the foundation for the Lady Bulldogs and will be a big contributor on offense and defense for her team this season.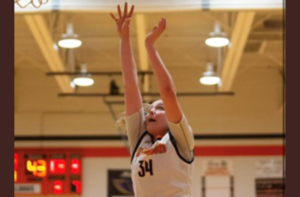 Jada Turner-Huntington-G-
Jada Turner was an important piece to the Highlanders state championship run last season. She is the younger sister of former Huntington standout "Alezha Turner", so we all know basketball runs deep in her veins. She has a solid all-around game her but her ankle breaking ball handling skills is what sets her apart from the rest. Jada can be very effective in Isolation plays, her ball handling and quickness makes her a tough assignment for any defender. Turner is a great driver of the basketball her ability to split a defense an penetrate the lane helps her gain scoring chances in the paint. She has no problem finishing with contact at the rim, she is automatic from the charity stripe as well providing a lot of three point play opportunities for her team. Turner will have a big season and take on more of scoring role for coach Lonnie Lucas.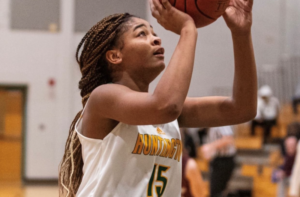 Natalie Daugherty-Wheeling Park-CG-5'7
Natalie Daugherty can flat out score the basketball, she is a long range bomber with dead eye accuracy you know a good shooter when every single made shot swishes straight through the nets. Daugherty is money you can bank on her to deliver when you need a bucket in the clutch. There is no such thing as a difficult shot for her she can shoot it with a hand in her face, fading away, and over multiple defenders she has a similar playing style to Iowa's star "Caitlyn Clark". Natalie is a fierce competitor on defense as well she slides her feet and uses her body well to keep who she's guarding in front of her. She has a real high basketball IQ she knows her sweet spots and where to be on the floor at all times. Daugherty is very coachable and she leads by example on the court she is the type of prospect any college coach should want on their roster.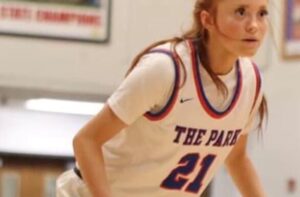 Madalyn Amick-Bridgeport-CG-5'7
Madalyn Amick is a player that leaves it all on court when she plays. She gives maximum effort on every possession I really her competitive spirit. She is a tenacious and scrappy defender that's not afraid to hit the floor for loose balls. Amick is a good ball handler, and facilitator she loves creating scoring opportunities for herself and teammates. She has a nice shooting stroke and she shoots a high percentage from mid and long range. Amick has good upside and can be developed into potential star player for Bridgeport.