Coach Dell's Open Run series started off with a bang. The event featured a college coach in attendance with Olivet Coach Davis, and more to surely be there in the future. The girls were ready to ball from the minute they walked in the gym. There were 18 players in attendance and all eager to get after it. The energy was electric as Coach Dell and Coach Key took the girls through a series of strength and conditioning exercises and high intensity basketball drills. Then there was King Of The Hill action and some high level 2 on 2. Zar'ria Mitchell Zar'ria Mitchell 5'7" Heritage | 2023 MI and Rachel Resio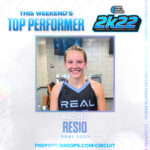 Rachel Resio PG Swan Valley | 2023 State MI were an absolute mismatch as they went undefeated. The Open Run segment of the event followed as the players shot for captains and picked the teams. The Open Run games were physical from the jump and displayed a very high level of basketball.
STAND OUT PLAYERS
Ava Bokie (2022, SG, Genesee Christian)
The Genesee Christian all time leading scorer and Cedarville commit made her presence felt at Coach Dell's Open Run. She was a force with her strong inside play and pull up jumpers.
Zar'ria Mitchell Zar'ria Mitchell 5'7" Heritage | 2023 MI (2023, PG, Saginaw Heritage)
Mitchell is a furure Division 2 college basketball player as she has committed to Davenport. She showed some nasty handles and can got to the basket at ease.
Ryleigh Zinn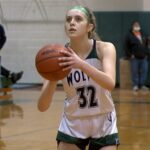 Ryleigh Zinn 5'11" | SF Genessee | 2023 State MI (2023, SF, Genesee)
The All-State runner up from Genesee High School showed out at the Open Run.  Zinn has size and know how to use it. She was very crafty with the ball.
Rachel Resio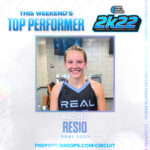 Rachel Resio PG Swan Valley | 2023 State MI (2023, PG, Swan Valley)
Resio is an All-State honorable mention who's a 100 points shy of 1000 for Swan Valley. As stated above, she was electric in the 2 on 2 games. Resio took away the Baller Award as she was dominating the whole time with her dribble drives, defense and automatic shot!
Ayanna Floyd (2023, PG, Bridgeport)
Floyd proved to be a really great defender that plays with tenacity and grit. She also showed deceptive quickness to the basket, proving to be a player to watch out for.
There were some young stars there as well including Zariya Bracy who was a bucket getter, Jayla Laster who provided energy on the floor, Janielle Turner and Mackenzie Turner who both showed terrific upside, and Londyn Newton who showed quickness and handles,.