One of the first and many stops of the NCAA live period was at Hoosier Heat! Day one of this three-day event displayed some of the best teams and players in the country and plenty stood out. Here are who caught my eye on Day 1.
Sadaya Jones Western PA Bruins
A tough player with a very high motor. When Sadaya checked in the game she was one of the reasons the game was out of reach! She scored in many ways and did the dirty work to get buckets! With her nice build, she is versatile on the defensive end and can guard different positions. Play with good pace and agility you can tell she is in good shape she never seemed to get tired as she battled throughout the game. Really a luxury piece to come off the bench Is she off to a good start in July!
Keisi Andrews FBC United 17U
Standing at 6'4 and only a freshman let's go ahead and mark it down she will be one of the premier post players in the country! Standing next to her teammate who is a US Olympian try-out qualifier you cannot tell the difference in size if you didn't know the names! She doesn't play like an eighth-grader/freshman you can tell she knows the game. On defense she doesn't anticipate blocks with weak head fakes she goes up and gets the ball and tracks the ball. She plays in the 10 minutes on Ar believe one of the best teams in the country this young girl's future is very bright!
Oluchi Okananwa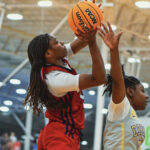 Oluchi Okananwa 5'10" | CG Worcester Academy | 2023 State Mass Rivals
The explosive athletic guard that can get to the bucket with ease! She doesn't need 5 to 6 dribbles to go past her defender on many instances two dribbles show and go she's at the bucket with a pull-up or with a layup. She's very acrobatic when she's at the basket she knows how to contort her body against bigger defenders. A smart defender that can defend any point guard at any time. I love her versatility watching her game a power five athlete.
Alexis Edmonds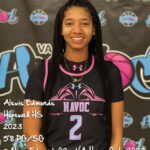 Alexis Edmonds 5'8" | CG Hopewell | 2023 State VA FBC CE Havoc 17U
Her team had a slow start to the game but Alexis got control and took over the pace of the game. Truly a 50/50 point and shooting guard but she ran the point guard position to a tee! Getting a run started with a nice half-court bounce pass for a layup! Next, On the defensive end, she blocked two shots on one possession! Then she a nice drive to the basket and found her teammate for a wide-open three! It was a stats sheet filler type of day to help her team get a good win!
Genevive Wedemeyer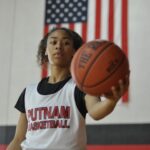 Genevive Wedemeyer 5'7" | CG Putnam Science | 2023 State NYC Gauchos
Has a very high motor and is a very good athlete. Is very twitchy with her movement and with the ball. She has a really quick crossover step that looks like it is in all one motion. Has elite stop-and-go moves with the basketball. Genevine did show that she can shoot the three as well. Has great vision, and showed good drive and kick-out ability. She also stepped up to the challenge on defense guarding at a high level!