Another packed day of basketball. Day 2 at Hoosier Heat did not disappoint with these top performers leading the way and turning heads with their play!
Julie Bahati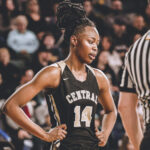 Julie Bahati 6'2" | PF Springfield Central | 2023 State 6-2 PF 2023 Springfield Ballers
Athletic long shot block power forward who can control a game on the defensive end. She pretty much kept one game and checked by protecting the paint forcing the opponents to shoot on orthodox floaters and getting block shots. She has a nice tight drop step to the baseline for a layup. She catches the ball high in traffic and never brings it down to get easy buckets. It looks like she was dealing with a bit of a knee injury but still was able to produce and showcase her abilities.
Kennedy Blair Kennedy Blair 5'9" | SG Dearborn Divine Child | 2023 State MI 5-10 PG 2023 Michigan Storm UAA 17U
Looks like more of a wing than a point guard at the next level. She can probably run the point-forward position and cause havoc with both her guard play and getting inside and making things happen. She is deceptively quick, very agile and knows how to use her body in the open floor. Defenders try to speed her up throughout the game but she has a Luka ability to get to the rack with the use of her body! She did a great job of setting up her teammates and getting some key buckets to keep the other team at bay. Hi IQ player with a really good skill set!
Taylor Barner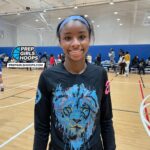 Taylor Barner 5'7" | PG Panther Creek | 2024 State NC 5'8 PG 2024 FBC CE UAA
Really don't know how long she's going to be labeled a point guard I think combo guard should fit her very well. When she gets her feet set she is automatic from the three-point line. Taylor has proven to be in an elite three-point shooter and can knock it down from anywhere on the floor. She showed really good athleticism defending multiple positions on the wing. One thing I can say about her scoring is in her DNA and she can get you a bucket at any time! It also looks like she bulked up a little bit and working on her body for the next level!
Audrey Biggs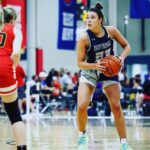 Audrey Biggs 6'0" | SF Boyd County | 2024 State KY 6'0 SF 2024 West Virginia Thunder 16U UAA
Smooth 6-foot and can make any shot on the floor! Has a power for frame playing on the wing. Has a pretty jump shot and fits right in the scheme of this team. She can score all three levels on the floor it provides great size on the defensive end.
Zamareya Jones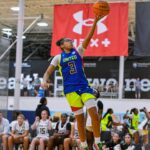 Zamareya Jones 5'6" | PG North Pitt | 2024 State NC 5-6 PG 2024 FBC United 17U
Her team got off to a very slow start versus a very good Boston rival team. She helped flip the switch in the second half hitting some key pointers to erase an 18 points halftime lead. She is no doubt the emotional leader on this team she stepped up to the challenge to descend a very good point guard in crunch time! Zamareya plays much bigger than her size and will get better and she is an elite player!
Alahni Lovett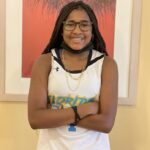 Alahni Lovett 5'5" | PG Lakewood | 2025 State FL 5-7 SG 2025 Sports City U
Do not be fooled by her size at the shooting guard position! Quick with the ball an Alahni range is the parking lot! she does a very good job of getting her shot up at her size! She's not just a three-point shooter a very crafty guard only in the ninth grade will get better with all facets of her game. She does a good job turning defense into offense to pad her stats and point totals!