It's here. The grind season continues and PGH Tennessee has descended onto the Bluegrass state. Taking in competition live from the Kentucky Convention Center, the atmosphere is electric. Girls everywhere are hungry, eager to showcase their skills in front of collegiate coaches and attendees. Ohh, the excitement is astonishing. From hearing the swish of the ball going through the nets to the sneakers squeaking, this is the place to be for sure!
Many Volunteer state teams came up (or over) to Louisville to show out. I personally came away very impressed with how our TN clubs stacked up against the competition. From clubs in New Jersey to places far away such as Cali and Oregon, our girls showed the country just how tough Tennessee girls basketball really is.
Day 2 had many standounds from the Derby City. Here are a few young hoopers who pique my interest from the baseline.
Madelyn Ladd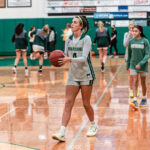 Madelyn Ladd 5'10" | PF Webb-Knoxville | 2023 State TN from the TN Flight Trotters is a tough kid. Hard nose player who has her fingerprints all over her team's success. She does the little things right. She's a hustler whose motor is always on. From knocking down shots to making timely passes, unselfish leader who creates runs for her team. Is't afraid to mix it up and lock opponents down on D.
Lovely Alexander from EAB Tennessee was on fire from beyond the arc. Started out knocking down 3 for 3 from beyond the arc early in the contest. Contributed on D, by boxing out and gaining rebound. When she wasn't unleashing the rock from beyond the arc, she was getting into the lane to draw fouls or make nice assists.
Hallie Turner Hallie Turner 5'4" | CG Briarcrest | 2024 State TN from Team Brandon Wright had a day for sure. Getting buckets from deep and grinding her opponents down. Solid kid who has grown over the course of the travel ball season. Blessed with great size and length, look for her game to continue to grow.
Kayli Clarkson Kayli Clarkson 5'10" | PF Briarcrest | 2023 State TN , the rising senior from Briarcrest, was a best down low for Tennessee Pride. She is a huge presence down low where she establishes real estate. From getting put backs, hitting the nice turn around jumper, she was a monster down low for her club. Has a great motor and runs the floor super well in the transition game. Isn't afraid to battle it out down low on either end of the floor.
Reagan Brown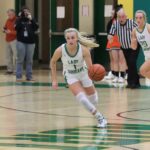 Reagan Brown 5'8" | SG Northview Academy | 2024 State TN from Northview Academy who suits up for ETA Air Thunder Campos, holy smokes. Exciting prospect who is a multi-level scoring threat. Floor general who has incredible court vision. Gets her team going by doing the little things right. Makes passes to teammates in rhythm. Eyes need to be locked on this hooper.
Braley Bushman for the Stars Basketball Club has a nice inside out game. Can get it done from in the paint or beyond the 3pt line. Uses her length to her advantage to create mismatches. High Basketball IQ who contributes on both ends of the floor.
Lauren Bryant Lauren Bryant 5'7" | SG Wayne Co. | 2023 State TN from TN Flight Navy is as confident as they come from beyond the arc. Can't leave her open or she will knife right through you. Has the ability to put the ball on the floor and finish inside. Scrappy on D, plays the game with a passion.
Nia Powers Nia Powers 5'10" | SF White Co. | 2023 State TN from FBC Reign is solid all-around. High motor kid who plays hard on both ends of the floor. Brings a physical presence to the hardwood. Has a nice offensive game where she can battle in the paint or unleash a nice mid-range. Tough kid hands down.
Cori Allen from Tennessee Flight Silver is an absolute stud. Pushes the ball in transition. Plays tough D, where she get deflections and steals. Great in both the transition game and in pick n'roll action. Has a fantastic understanding of the game is a tough kid to stop. Has a nice mid-range game and is always looking to attack with the ball in her hands.