Day 3 here at the Run for the Roses has been nothing but awesome. Our clubs from Tennessee have been doing work. From making dazzling plays to getting after it on D, our clubs have really shown the country what this brand of basketball is all about. I love the heart, hustle, and passion our teams play with. They share the rock, they display togetherness, and get after it from tip to the final horn. Baselines are full for our clubs and coaches are really seeing a great crop of girls compete at a high level.
Inside the Kentucky Convention Center, it's been nothing but roses. We've had some talented girl hit the hardwood this week and Day 3 has been on point. Here is a recap of some young ladies who showed up to show out on Day 3 at Run For the Roses.
Not from the Volunteer State, but I had to give her props. Jenna Lawrence who plays for the Tennessee Flight team is a lethal sharpshooter. She lets that thing fly and it's nothing but nets. Was a bucket from beyond the arc and got hot early in the contest against Exodus NYC. She's heading to Arkansas and the Lady Razorbacks really got a game changer.
Kayla Crawford Kayla Crawford 5'7" | SF Columbia Central | 2025 State TN and KK Nugent were monsters for the 2025 EAB Tennessee clubs. Both girls were active on defense, getting hands on balls that led to transition breaks. Their club fell short, but they were the catalyst for their team's comeback. Kayla knifed through the defense many times to get to the cup. KK unleashed the rock from beyond the arc when she wasn't knocking down the mid-range. Keep an eye on these two as they grow throughout the exposure circuit.
ETA Thunder has a tough guard that hails from the Bluegrass state by the name of Anna Drakeford. Super tough kid from Mercer County who plays the game the right way. High IQ, plays with a motor, knows how to score the basketball on multiple levels. Her offense doesn't define who she is as she grinds on the boards on both ends of the floor. She doesn't force her game and is very selfless. 'Me for us." With so much attention on her, her teammates become open for easy buckets as well. Keep an eye on this sensational guard as she continues to hoop it up.
Keira Leffew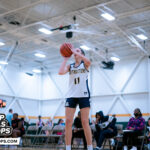 Keira Leffew 5'11" | CG Knoxville Christian Academy | 2023 State TN from the Tennessee Trotters program is tough. Knows how to use her length to her advantage, this kid has a nice J, contributes on the boards, and defends! Runs the floor well to get transition buckets. Has counter moves that lead to high % attempts. Unique player who can help take over a game at a moments notice,
Imari Berry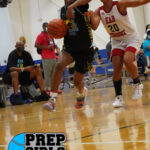 Imari Berry 5'10" | SG Clarksville | 2024 State TN from Tennessee Sol is a legit stud. Tough to defend. 5'11 combo guard who can handle the ball against pressure, knock down clutch shots, get to the rim, and has an overall great feel for the great. Very impressive on the defensive end on how she creates so much chaos that leads to turnovers. Big time prospect whose stock keeps rising.
Staying in the Tennessee Sol family, Lauren Hassell, who is a '27, is a complete stud. 6'3 forward who can handle the rock, possesses a nice mid-range game, and is a beast in the paint. She plays the game with poise and knows how to use her body to her advantage. Great rebounder and uses her length to deter or block shots. Young but a promising top prospect in the making.