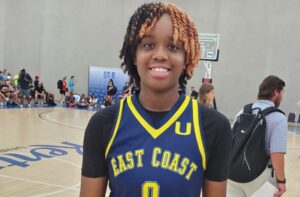 Gabby Bush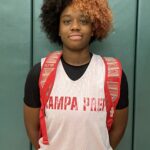 Gabby Bush 5'11" | SF Tampa Prep | 2024 State FL 2024 (ECU Family 2024) had the three point game going and knocked down at least three on Day two.  Bush had the dribble drive game on cruise as she got to the goal any and every time she wanted to.   She  showed the handles,  the rebounding abilities, and the leadership abilities as she put her team on her back and refused to let them lose.  Great performance by Bush.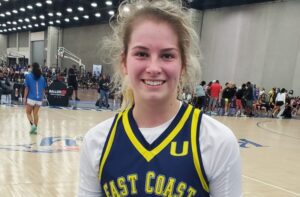 Abby Knauff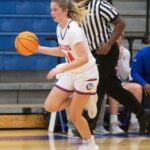 Abby Knauff 5'9" | SG Bolles | 2025 State FL (ECU Family 2024).  Knauff played well on Day 2 of the tournament.  She knocked down several threes, was aggressive taking it to the basket, and finished the game in double digit scoring which is the norm for one of the top 2025s in the State of Florida.  Due to an injured teammate, Knauff took on some ball handling responsibilities and did a good job.
Chariot Johnson Chariot Johnson 5'10" | SF Booker | 2023 State FL (ECU Family 2023).  That loud eruption in the Expo Center was due to a blocked shot by Johnson.  It was an effort play where Johnson hustled down court and blocked a layup attempt.  Those are the plays that Johnson makes throughout games.   Johnson dove on the floor for loose balls as always and played every play on both ends of the court.  Johnson finished the game in double digits in points, knocked down a three pointer, connected on a mid-range in the paint and ran the floor for a few fast break baskets.
Emma Risch Emma Risch 6'2" | PG Palm Bay | 2023 State #23 Nation FL 2023 (ECU Family 2023).  Risch made it look easy out there on the courts.  She shot the step back three and was so confident she repeated the shot with the same results.  She is definitely in a class by herself.  Risch handled the ball, made some great passes, and was just deadly on the courts.  Another day at the office and she had a " few" college coaches in attendance.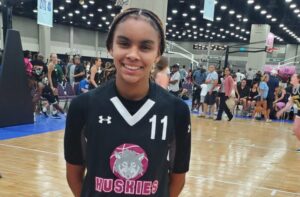 Taniyah Davis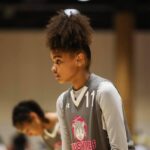 Taniyah Davis 5'10" | SF Chaminade Madonna | 2026 FL   PG 2026 (Lady Huskies 2024). (Also pictured above).  Davis had a special day at Run 4 the Roses scoring 25 points and 17 points.   In the 25-point game, the young baller and teammates had the attention of the fans as it was standing room only.   Davis was clutch down the stretch with a drive to the basket and some pressure packed free-throws.
Kennedy Rosendahl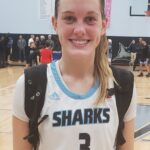 Kennedy Rosendahl 5'6" | PG Pontre Vedra | 2024 State FL   PG 2024 (ECU Clarke).Rosendahl shot the ball well on Day 2 of the tournament. She knocked down 3 threes and also did a good job of getting to the rim.    Rosendahl showed her versatility running the point and also setting up for shots behind the arc.