This weekend kicked off the July live period and for girls basketball, most events with CA teams participating were held out of state. But Sports Academy in Thousand Oaks, CA did play host to a local event, the End of Trail SoCal Showcase. The event was held from Sunday, July 10 to Tuesday, July 12 and featured teams from both Northern and Southern California as well as some from out of state. I was able to attend the event on Monday, July 11 and I focused on the CA teams. Here's a look at some of the top post players/bigs I saw.
1. Tiara Jones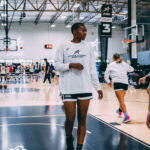 Tiara Jones 5'9" | SF St. Paul (Sante Fe Springs) | 2024 State CA – Swish GBL 16U
Jones is a versatile player who can play both in the post and on the wing. She's a natural forward who can play some center at times. She does a good job flashing across the middle and calling for the ball while establishing position. She has a nice little turnaround jumper in the post. She can finish inside and plays well in the pick and roll as the screener and roller. Good transition defense; able to chase down players for the block. She also does well cutting off drives to the rim. She can handle the ball and make moves off the dribble.
2. Autumn Hill – Marlborough 2023/West Coast Premier Red
This was my second time seeing Hill play within the past month and what really stood out this time was her defensive awareness. She's an interior anchor. She does a good job challenging shots at the rim as well as sliding her feet and cutting off drives. Her guards/wings funnel players baseline where she's waiting at the rim. A good rebounder who boxes out well and grabs boards with two hands. Offensively, she's a work in progress but the skills are there to be an inside scoring option.
3. Alyssa Dreessen – ML King 2023/Troopwest 17U National
What stood out to me about Dreessen was her play in the midpost area. When she catches the ball there, she's quick and decisive. She can turn and face up and make a strong move to the rim. She's able to draw fouls and get herself to the free-throw line. She does a good job positioning herself in the paint for rebounds and if she doesn't have the angle she can tip the ball out to teammates.
4. Shaylynn DeYager – Rancho Christian 2023/West Coast Premier Red
DeYager is a natural post scorer. She can get good position and seal off her defender. She calls for the ball and she has good footwork in the paint; can spin either direction. Uses the glass well to score in the paint. Takes advantage of smaller defenders in the post and finishes through contact. Sometimes she rushed shots in the paint but was very effective when patient and hitting defenders with a couple of fakes. Good rebounder who boxes out well.