The featured image is of Riley Flinn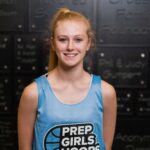 Riley Flinn 5'11" | SF West Lafayette Harrison | 2023 State IN (2023) of West Lafayette's William Henry Harrison High School and Indiana Elite Lightning 17U.
This week marked the beginning of the July "live" periods, and more than 100 teams from Indiana found themselves South of the Ohio River in Louisville, Kentucky, for the Run 4 Roses tournament. To follow are five ladies who I thought stood out for one reason or another with their play when I was able to see them during the final rounds Friday, July 8th.
Riley Flinn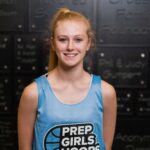 Riley Flinn 5'11" | SF West Lafayette Harrison | 2023 State IN , 2023, 5-11 W, West Lafayette Harrison H.S., Indiana Elite Lightning 17U
– To truly understand Riley's game, she was a 5-7 combo guard as a Freshman. She had a nice growth spurt her first couple of years, and now that she's gained strength, she is a fluid and athletic wing who can play a variety of roles at all three levels. She can still act as a point forward, initiate the offense, and even create for herself or teammates. She has touch from the perimeter, she can attack the basket and finish inside, plus she has a nice mid-range game. Additionally, she is a versatile defender.
Kyndell Jochim Kyndell Jochim 5'11" | SF Franklin Community | 2023 State IN , 2023, 5-11 W, Franklin Community H.S., Indiana Elite Lightning 17U
– Kyndell is a really nice wing prospect whose college interest should really take off after this month. She is extremely long, wiry-strong, and she's a fluid athlete in most directions. She has a solid handle and can get to the rim, but she's a high-level shooter with range well-beyond the 3-point line. She looks noticeably stronger this Summer, and I like how she's doing a number of different things other than shoot the ball. She was active on the boards Friday, and she looked much improved at the defensive end.
Hailey Vanderhye, 2023, 6-0 PF, Hanover Central H.S., NWI Select 17U
– Hailey is a really nice small college prospect who I'm guessing many people aren't terribly familiar with. She has nice height, a wiry-strong, athletic frame, and she's a fairly fluid athlete. She plays with a nice motor, has touch in the mid-post and short-corners, and she can post a little. I also like her motor at both ends of the floor. It's good to see her playing this Summer, and I think it will really help her game get stronger and more consistent. She could be a double-double kid at Hanover Central.
Ali Wiesmann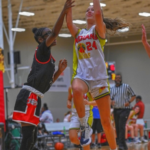 Ali Wiesmann 5'9" | SG Center Grove | 2023 State IN , 2023, 5-9 G, Center Grove H.S., Indiana Pride Xtreme 17U
– I've liked Ali's game since I first saw her a couple of years ago. She looked a little stronger and more explosive Friday, and she does so many different things for her team. She has really nice length, some bounce, quickness, and she plays with a nice motor. She can handle the ball and initiate the offense, she has nice touch from all three levels, and she is an effortful and versatile defender. I think she's another kid who is under-recruited at this point, and she could see her interest peak this Summer.
Camryn Conley, 2026, 5-7 W, Northridge H.S., Always 100 Elite 14U
– I was not at all familiar with Camryn, so Friday was my first time seeing her play. She stood out first because of her ability to shoot the basketball from the perimeter. She knocked down three of four shots from the long-corner in the half I was able to see, but she's also an extremely long, wiry kid who is fairly smooth and fluid athletically. She looks like she could still grow a couple more inches, so it will be curious to see if she grows, gets stronger, and becomes a more dynamic scorer.