Alexis Bordas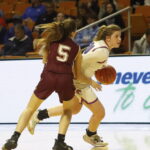 Alexis Bordas 5'8" | SG Wheeling Park | 2025 State WV , W.Va. Thunder 16UAA, SG, So., 5-7 – Alexis Bordas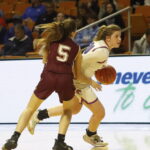 Alexis Bordas 5'8" | SG Wheeling Park | 2025 State WV doesn't run from a challenge, like playing up with the W.Va. Thunder 16U squad. Ever. Should she be asked to go up a level, then that's what she'll do. Turns out she's not too shabby, either. You could even say she perfectly fit in. Given the opportunity by Scott Johnson, the girl named Lex went to work only to come out with encouraging results. On one hand, her shot translated over well to the older group, she had time to get it off and when she let it rip, the ball went in. On the other hand, her defense proved up to the task against girls one year older than her. That fact might be the most encouraging of all. Regardless, both of these developments spelled positive results for the young lady. She couldn't have asked for a better debut with a group she may be playing with for the rest of the summer.
Haylen Cook Haylen Cook 5'4" | PG Linsly | 2025 State WV , W.Va. Thunder 15U Gold, G, 5-8 – Is it time to start calling Dria Parker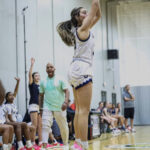 Dria Parker 5'10" | SF Spring Valley | 2025 State WV and Haylen Cook Haylen Cook 5'4" | PG Linsly | 2025 State WV the Splash Sisters for W.Va. Thunder 15U Gold? Maybe. Cook sure didn't do anything toward dispelling that notion against Team Trey Teal. One day after Parker went nuts from behind the arc, Cook ended up following suit. Her shots fell from everywhere. They came out fast, accurate and on time. In total four of them went in, and each of them helped as the Thunder pushed away the Teal group for an eventual 54-36 victory. The best part about Cook's 3s were the fact that she set her feet in limited time and fired away. Her shot quickly came out and she quickly reached her peak elevation, thus ensuring an accurate shot.
Addison Godby, W.Va. Thunder 2026, F, 5-11 – Godby is a long and lanky kid who knows how to use her size. At least, kind of sorta. On one hand, she uses her long arms to create acrobatic layups on a drive to the basketball against a more athletic opponent. And those shots usually go in. Another good thing? She makes strong and long passes because she can see above her defender and watch over the rest of the court. Defensively, she's still learning how to make things happen and fully utilize her strengths. Of course, saying she doesn't know anything isn't fair, either. Her defense measures up, but there's things about her approach that could be improved. That's not a bad thing – she's in a high school and AAU program where she will continue to grow and develop over the next few years. Coaches should keep an eye on Godby as she continues to grow.