Za Kiyah Johnson, W.Va. Thunder 17UAA, G, 5-8 – Kentucky's Gatorade Player of the Year made her debut with the W.Va. Thunder and it was a spirited affair. She scored buckets. She made chaos on defense. She flashed her athletic ability. Oh, and she also showed off an uncanny ability to adapt to whatever teammates were around her. Yes, even as just a freshman, there already exists a basketball IQ and understanding of the floor that not many players have. Scott Johnson and company could put any group of five they wanted on the floor and she was fine. Teams better throw out the game plan against her, she just gummed up the works. Not a little, but a lot. When there's that much comfort, then the combination of players is infinite. Imagine Johnson is playing with 12 queens instead of 12 pawns now. He can move them anywhere and everywhere. Five-out, iso, zone breakers, fast break, small ball, you name it and he can run it with Johnson on the floor. Coaches better get on this freshman now, she's only going to get better being pushed by Dee Alexander in Thunder practice every summer.
Emmah McAmis, W.Va. Thunder 15UAA, G, 5-7 – Deliberate play on the basketball court is always a good thing. When confidence is shown and plays are executed timely and properly, it stymies any but the most well-coached defenses or offense. And even then there's really no good answer unless it is the perfect one.
That brings us to McAmis.
She's that kind of deliberate player who lets the game come to her because she always makes the smart play. It's true. Anything can get her into a flow, and once she's in a flow … well the trouble starts for the opponents. The slithering in traffic and the eyes up on the fast break begin and then there are too many ways for her to cause trouble to count. Simply look at her performances on Day 1 of Hoosier Heat. No matter if it was a rebound, assist, steal, or 3, the snowball quickly started rolling as her confidence soared. And in games where she has the ball in her hand plenty, that happened to be a good chunk of the time. Which meant she had extra time for her chaos, and she didn't waste it. The most exciting thing about her is she's still growing into her abilities.
Reagan Vinskovich, W.Va. Thunder 17u Rise, C, 6-2 – Post talent comes in abundance when talking about the West Virginia Thunder. There's Sarah Baker, Zaniah Zellous, Addie Adkins, Audrey Biggs, and Sydney Mobley just to name a few. And there's also, Reagan Vinskovich. When it comes to bigs who show comfort in the post, you must include Vinskovich. She looks right at home. Maybe a coach could make her uncomfortable every once in a while on the block, but it would take some work. A lot of work. Creating the perfect atmosphere would take time and plenty of bodies, and by then she would already have adjusted. Whatever a coach was hoping would happen, well it just wouldn't happen. It would be gone in a puff of smoke. Maybe that sounds like an exaggeration, but the Bruins couldn't slow her down in the game I watched. She received the ball and did whatever she wanted to in the post. More time than not, it was her simply catching the ball and laying it in off the class. The few times she was challenged, she put the ball on the floor and took it to the rack. How do you stop that? Quite simply, you don't.
Finley Lohan, W.Va. Thunder 16UAA, SF, 5-11 – Finley Lohan may be the best defensive player in the state of West Virginia. There's no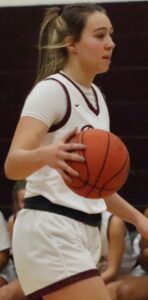 avoiding her D skills. She literally locks down opponents. Everyone who comes across her experiences their worst shooting day of the season when she D's up across from them. Making such a boast might seem like folly, but is it really? Her strength is unmatched, her instincts unparalleled, and her attitude is exactly what you want to see from an elite defender. Everything gelled into an unstoppable force on the point-stopping end. She was at her best again at Hoosier Heat. While she wasn't slapping the floor, she used her long limbs, fiery attitude, and great footwork to keep in front of some of the best Under Armour Circuit Players. And guess what? They all had bad days. What more could you want from a defender? Not much.
Claire Williams, W.Va. Thunder 15U Gold, C, 6-0 – Claire Williams constructed a great step-off point for 11 games in as many days. She built it with a great Hoosier Heat opening day. Really. Hoosier Heat opening day. Playing down low, she ended up saving her group's second contest. Gifted with a height advantage, she went to work. Hard and often. It was almost as if her teammates were feeding her on purpose. There were jump shots, trick shots, foul shots, and no look shots. Most went in, some just missed, and others may have been a little off. Still, she made enough of them that in the end, it was a great day not only for her on the boards but in the scorebook. I like this young lady's game. She wants the ball and openly calls for it. When she gets it, she does her best not to waste the opportunity. She's a dependable downlow player who can front or back opponents in the paint, and score either way.
Sophi Hutchison, W.Va. Thunder 2026, SG, 5-6 – Hutchison is a high-energy, well-rounded shooter. She appears comfortable at any range. And once she squares up, she fires a nice deep shot toward the basket with spin and plenty of accuracy. Just look at her options, if the 3 isn't working for her, no problem as she's already drawn her defender out with the threat of the deep shot. Once the defender is compromised, she puts the ball on the floor and has no problem connecting on a drive to the basket or taking a quick pop shot. Most of the time, she won't have to worry about the pop shot, because she's usually already on her way to the bucket and past a defender.
Sydney Mobley, W.Va. Thunder 2027, C, 6-1 – Mobley continues to impress. There's no point in denying it. She's getting better and better. Perhaps, its a new post move here or a new shot added there, no matter how you slice it, these are improvements. On the opening day of Hoosier Heat, she showed them off, too. All of them. Maybe it was the her scoop shot in the opener, or a running jumper in the latter game. Whichever you choose, each were deadly new additions to a player who already has so much going for her. I really can't wait to see what the future has in store for this young player. After showing off so much talent at such a young age, the future sure is bright for her.